Latest updates focus on video tools with new capabilities in artificial intelligence, virtual reality, motion graphics, live animation, and audio.
Adobe has revealed a major update for video tools in its Creative Cloud solution, meant for filmmakers and video producers. Now available, the latest update delivers new features for graphics and titling, animation, polishing audio, and sharing assets; as well as support for the latest video formats, such as HDR, VR, and 4K; new integrations with Adobe Stock; and advanced artificial intelligence capabilities powered by Adobe Sensei.
Steven Warner, vice president of digital media at Adobe said, "Our heritage is taking complex challenges and simplifying them so you can concentrate on storytelling and professional, quality work. The newest Creative Cloud video release integrates the advanced science of Adobe Sensei to make common tasks faster and easier. All video producers – whether they're part of the major media companies or up and coming YouTubers – can now bring their creative vision to life without having to be motion graphics or audio experts."
The latest updates to Creative Cloud video tools include several new features:
Motion Graphics Templates which bring the power of After Effects to Premiere Pro through templates, allowing creators to add titles, animations and lower thirds to their videos, and users can create custom motion graphics templates which can be shared via Creative Cloud Libraries. (In TV, lower thirds refers to text titles placed in title-safe areas of the screen.)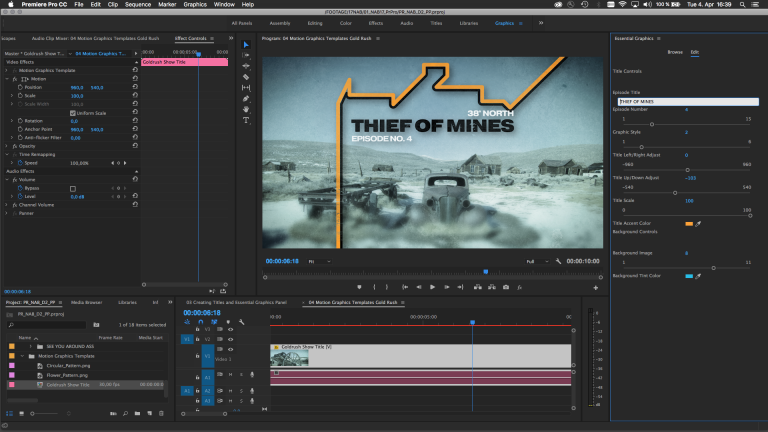 Sound panel is now available in both Premiere Pro and Audition. It allows users to assign mix types to their clips, which is helpful in identifying the role each clip plays in the project, without requiring audio engineering expertise.
Camera Shake Deblur in After Effects rescues unusable footage by reducing motion blur that often occurs with camera shake.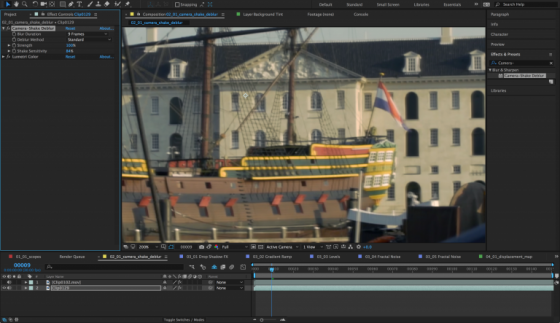 Character Animator CC (Beta) adds new, more powerful animation capabilities like walk cycles, Viseme Editor, live streaming via Facebook and YouTube, blending modes, etc.
Multichannel audio workflows in Audition help users break out multichannel files into separate clips in Multitrack, or pick and choose custom channel configurations for new clips.
Team Projects (beta) in Adobe Media Encoder helps encode media in a Team Project such as file media, Premiere Pro sequences and After Effects compositions, directly in Adobe Media Encoder.
Hundreds of third-party integrations including Apple touch bar support in Premiere Pro for MacBook Pro and new Microsoft Surface Dial functionality in Premiere Pro with shuttle control in the timeline as well as changing hot float and text values.
Adobe showed these features at the NAB conference, NAB Show 2017 in Las Vegas last week.
Pricing and availability
The new features for Adobe Creative Cloud announced at NAB are available now with the latest version of CC 2017. The company is offering Adobe Creative Cloud for U.S. $49.99 a month. For more information, visit http://www.adobe.com/go/video. Multiple subscription plans for Adobe Stock are available at https://stock.adobe.com/plans.