The recent announcement that Microsoft will include a 3D printing API was met with a hearty cheer of support from Autodesk.
Perhaps the weirdest announcement at the recent Microsoft Build conference for developers was the news Microsoft would enable 3D printing by supplying a print button. So that's all it takes, right?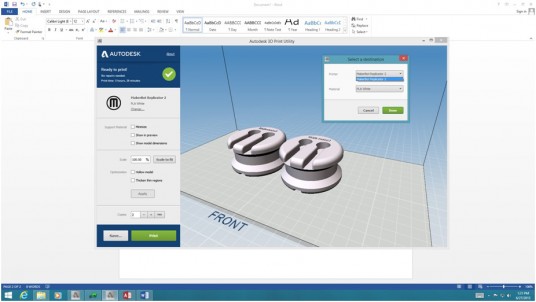 Actually, Microsoft is humbly pro­posing it provide a stan­dard printer pipeline for 3D printers that will work in much the same way as 2D printers work today with Windows. Microsoft will provide SDK and APIs to en­able 3D printer ven­dors to write new driv­ers. The initial version of the SDK is already being made available by Microsoft and is being used. 3D Systems, never slow to leap on an op­portunity, was showing its printers at work with Windows on the Build show floor. There are also some open source projects taking advan­tage of Microsoft's ad­vance work. For its part Microsoft says it will help the printer compa­nies build drivers.
Autodesk, which has been enthusias­tically hitching its wagon to the Maker community, is all in with Microsoft on the project. Autodesk is offering its 123D Design product as a piece of the process. Autodesk is offering the 3D Print Utility inside 123D Design. The 3D Print Utility can be used to prepare a 3D model for printing including creat­ing a hollow model to save print time and material and to position the model to make the best use of material. The 3D Print Utility can also be used to thicken walls that may be too thin for modern 3D printers to print. It can be down­loaded from the Autodesk site.
Our take
This is a Maker initiative. In addition to 3D printers, Microsoft is also work­ing with other fabrication tools includ­ing CNC milling and cutting tools.
Autodesk was also on hand at the Build exhibition floor, where it demonstrated 123D Design in a middleware role allowing users with 3D models to validate them for printing. Autodesk was showing their system working with the MakerBot 3D printer newly ac­quired by Stratasys.
Autodesk says it is the first software company to show software featuring the print button.