PCBWorks from Altium enables direct links to automatically build parametric, 3D models of a circuit board in SolidWorks.
By L. Stephen Wolfe, P.E
For decades CAD users and software developers have bemoaned the lack of integration between electrical and mechanical CAD software but progress has been slow for a good reason. The people who write electrical CAD software rarely talk to the people who write mechanical CAD software. Getting them to develop integrated systems is even harder.
In the last few years, a few advances have been made. In the area of cable and harness routing, Autodesk integrated its AutoCAD Electrical with Inventor's routed systems option. The integration connected the two programs though a spreadsheet-like format that works well enough but is tricky to set up. It sold briskly, according to an Autodesk executive.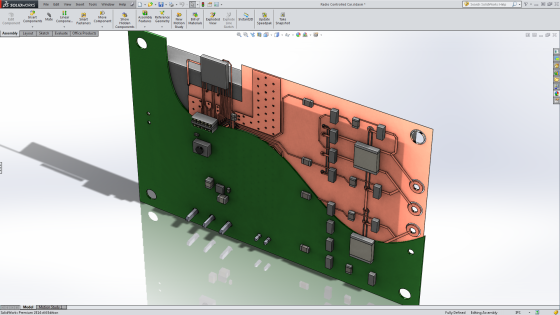 In 2013, SolidWorks began delivering a schematic and wiring application with a direct connection. (See "SolidWorks Electrical takes on AutoCAD.") It has become the fastest-selling product in the SolidWorks family since the original SolidWorks.
In the discipline of printed circuit design, progress has been slower. In the 1990s, vendors of printed circuit design software collaborated to produce the Intermediate Data Format (IDF) that allows the approximate physical outline and component heights of a circuit board to be transferred to a mechanical CAD system.
IDF suffered from the shortcomings of all neutral file formats: limitations on the types of data it could handle and the complications of translating data both into and out of an intermediate format. For example, the first three IDF releases didn't let mechanical designers see the locations of the traces (copper conductors) in the circuit board, something they might want to know before moving a mounting hole.
Nevertheless, IDF remained the most widely used medium for getting physical design data from PCB design CAD to 3D mechanical CAD.  SolidWorks's own CircuitWorks is based in part on IDF.
Real integration
On February 8, 2015, at the start of the annual SolidWorks World conference and trade show, third party developer Altium introduced a new system of software that takes the integration of mechanical and printed circuit CAD to the next level. Dubbed PCBWorks, the new software is a printed circuit layout system that enables direct links to SolidWorks 2015 and later versions. PCBWorks is capable of using geometric design data to automatically build parametric, 3D models of a circuit board in SolidWorks that contain the board outlines, component elevations and locations, and copper conductors and filled areas. Changes made to the circuit board can be automatically updated in the SolidWorks model via a direct link.
Headquartered in Australia, Altium has produced reasonably priced PCB design software for 30 years. The company has a mature suite of electronic design tools that includes software for designing schematic and field-programmable gate arrays (FPGAs).
PCBWorks is a new application that's data-compatible with Altium Designer, the company's flagship printed-circuit layout system. PCBWorks's menus have been redesigned to give it a SolidWorks look and feel while employing proven tools for component placement and automated trace routing. It also integrates with a schematic design tool that supports bidirectional communication.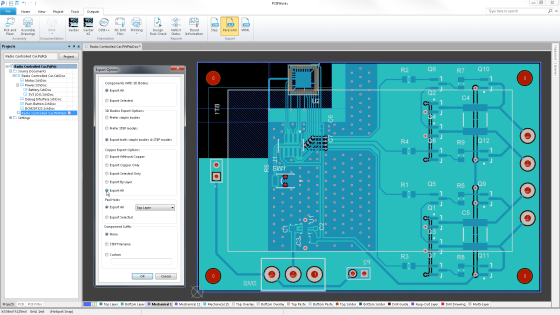 PCBWorks sells for $5,000 plus $1,200 annually for support and updates, a bargain compared to systems from EDA-industry giants such as Cadence and Mentor Graphics. The price includes the SolidWorks interface; the mechanical CAD software need not be installed on the same workstation as PCBWorks itself. PCBWorks is being sold by specially qualified SolidWorks resellers such as GoEngineer.
As with all new software releases, PCBWorks should be deployed with caution. But given the success of SolidWorks Electrical, it should sell well to makers of products with tight circuit-board packaging requirements such as hand-held electronic devices, toys, appliances, home entertainment, and automotive and aerospace subsystems. For more information, visit http://www.pcbworks.com/.
Stephen Wolfe, P.E. is a Contributing Analyst for Jon Peddie Research.