A mouse designed with CAD users in mind.
3Dconnexion, the Logitech spin-off with several products designed for 3D input, has brought its first mouse to market. The CadMouse combines specialized input buttons with ergonomic design to appeal specifically to CAD users.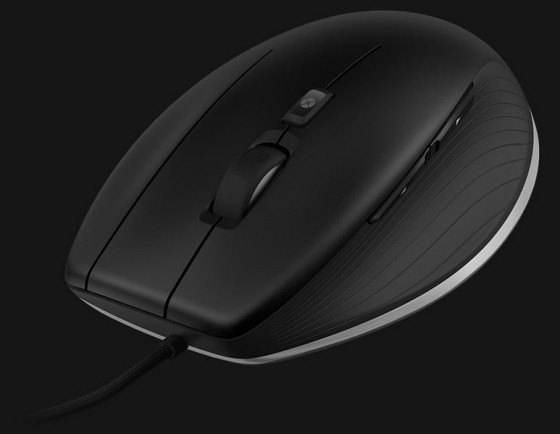 The company claims requests from the users of its SpaceMouse product line of 3D navigation tools led to making the new mouse. SpaceMouse products generally require the tandem use of a mouse for best productivity. "With the introduction of the 3Dconnexion CadMouse, we are excited to be meeting the demands of CAD professionals across a broad range of industries and professions," Antonio Pascucci, VP of products at 3Dconnexion. says. "The icing on the cake is that CadMouse enables a new level of two-handed power for our current customers."
The CadMouse features:
Dedicated, full-size middle mouse button: Many CAD users buy three-button mice, even though the market is saturated with two-button models. In recent years the scroll button has doubled as a third button, but 3Dconnextion says hardcore users find it uncomfortable to click the wheel as a button hundreds or thousands of times a day.
QuickZoom: A feature that allows zooming in and out of models or drawings with a single click.
Smart Scroll Wheel: Automatic scroll wheel performance depending on the active application.
Advanced Laser Sensor: Sensitivity of 8200dpi and a poll rate of up to 1000Hz offer a rated response rate of 1 millisecond.
Gesture/Radial Menu Button: The CadMouse's gesture button opens a context sensitive on-screen radial menu. Move the cursor left, right, up, or down to activate the command.
Optimally Shaped PTFE feet: 3Dconnexion says serious CAD users move their mouse up to 1km per week. CadMouse has "optimally shaped" feet made from PTFE, a material said to offer one of the lowest coefficients of friction against any solid, for improved motion and equilibrium.
The 3Dconnexion CadMouse will be available at the end of February at a suggested retail price of $99. At the time of launch, the CadMouse will support Windows 8, 7, and Vista operating system. More information is available on the 3Dconnexion CadMouse product page.