The unit snaps onto your Android smartphone.
By Jon Peddie
The Autonomous Teleport lets you save and share videos in stereoscopic 3D (S3D). The kit comes with smartphone headset and a dual-camera (for stereo vision) module. The camera module captures at 720p HD, and is small enough to put in your pocket or purse. You plug it into your phone and clamp it on, which disables the touch screen, and then makes a video very simple and easy to use.
The video is saved on the phone. You can then put the phone (minus the stereo camera) into the headset and watch your 3D video.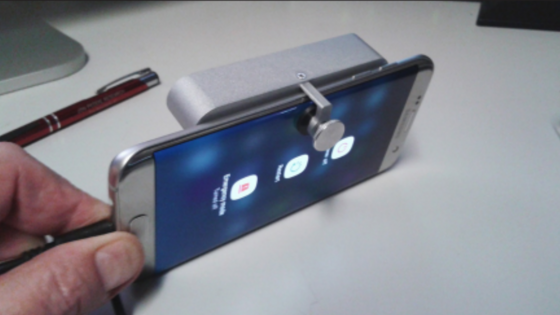 You begin by downloading the Teleport app to your Android smartphone. Once it is loaded, you attach the camera and begin recording, using the memory in your phone to store the video. The video is stored in the phone's main memory, not the phone's micro SD memory
You can use Teleport to record 3D videos and share them on YouTube, Facebook, and Twitter, and likewise you can watch 3D videos from other Teleporters. To watch 3D videos, you need a VR headset like the Teleport VR headset, but you can also use a Teleport Google Cardboard, your own Google Cardboard, or Gear VR.
Autonomous' headset has a z-control on the side to move the phone closer or away from your eyes, and an x-control for the distance between the lenses. The headset can accommodate any phone between 3.5- and 6-inch screens. We put a Samsung Express 2 in it as well as a Galaxy edge S7.
And although you can do a 360-degree sweep, you don't have to. If you just want a convenient S3D recorder, the camera module is perfect, albeit with limited resolution.
Theoretically you can still order a kit from Indiegogo for $99 (with cardboard) to $119 (with headset).
What do we think?
The Teleporter's headset is well designed but doesn't allow access to the phone's controls or USB connector. To start a video, you have to open it, tap the screen, close it, and remount the headset, which means you lose the first few seconds of the video. It really isn't a VR viewer—you can't look around in the image, all you can do is watch it as you would any video on a phone, except the video is in S3D. So, as a head-mounted S3D video viewer, it does a fine job.