China is slow, the Yen is falling. What Wall Street really wants to hear about is PTC's play in the Internet of Things.
By Randall S. Newton
PTC today reported first quarter fiscal results essentially flat when compared to a year ago, but in line with previous forecasts. The routine conference call with Wall Street analysts to discuss the call turned into an extended briefing on the company's new Internet of Things (IoT) strategy following its recent acquisition of software developer ThingWorx.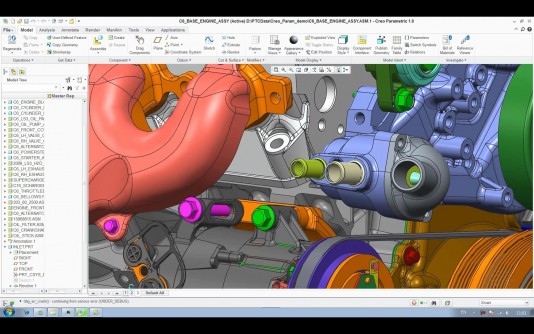 Revenue for the first fiscal quarter of 2014 (ended December 31, 2013) was $325 million, up 1.6% compared to 1Q13. Breaking down revenue:
License revenue: $75.9 million, flat;
Service revenue: $75.6 million, down 1.5%
Support revenue: $170 million, up 3.8%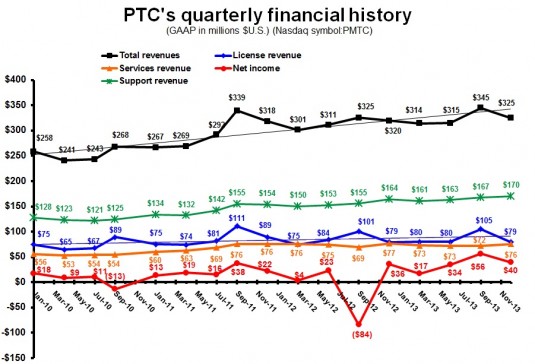 Two recent acquisitions (Enigma and NetIdeas) contributed $2 million to revenue in the quarter. Without that boost, total revenue in the quarter would have been up 0.99%.
During the conference call with Wall Street analysts, CEO James Heppelmann said the transition of Pro/Engineer users to the new Creo CAD environment has reached "the tipping point" where more PTC customers have upgraded to Creo than remain on Pro/E.
Revenue by geography:
Europe: $127 million, up 6% from 1Q13;
Asia/Pacific: $59 million, down 12%; a depreciating Yen affected results, as well as a continued slowdown in sales to China;
North America: $138.9 million, up 4.6%.
PTC considered currency fluctuations a "headwind" in the quarter; revenue was negatively impacted by $1.7 million and expenses were favorably impacted by $1.7 million.
Net income for the quarter was $39.6 million, up 10%.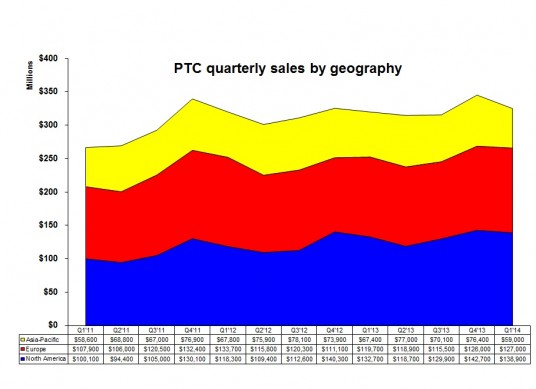 There were 34 large deals in the first quarter, totaling $70.7 million in revenue. PTC defines a large deal as a transaction that exceeds $1 million revenue received in the quarter.
PTC has made is clear in recent years that it plans to move beyond its engineering data roots in CAD and PLM, and become as many things to manufacturers as it possibly can. In 2012 and most of 2013 it talked up its new initiatives in Service Lifecycle Management, Application Lifecycle Management, and Supply Chain Management. It lumps those three initiatives into a category it calls "Extended PLM." On December 30, 2013 PTC launched into the Internet of Things in a big way, turning heads not normally interested in the Number 3 PLM vendor (see "PTC buys its way into the Internet of Things for $115 million"). We will publish a more detailed analysis of PTC's plans for IoT in a few days.
L. Stephen Wolfe, P.E., a contributing analyst for Jon Peddie Research, provided research for this report.
Six more of our custom charts follow. Larger versions of these charts are available at our Facebook page, www.facebook.com/GfxSpeak.