The first technology ever to visualize sound fields in 3D while measuring sound propagation.
LMS International has released new software for acoustic troubleshooting for manufacturing and design. LMS SoundBrush enables engineers to map sound propagation around an object and localize acoustic sources, visualizing sound fields in 3D while measuring.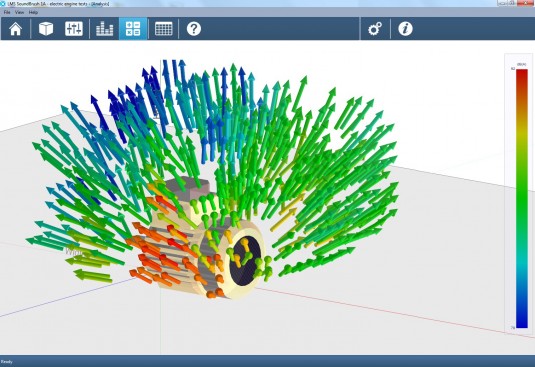 At the heart of the compact SoundBrush solution is patented optical tracking technology, combined with either a G.R.A.S. Sound & Vibration sound pressure microphone or a 3D intensity sensor. When moving the SoundBrush probe freely around the test object in any orientation or position, the sound field is immediately visualized on screen in 3D, allowing for quick and accurate interpretation of measured data. Engineers can visually communicate results with colleagues, management and customers.
LMS SoundBrush is the first new product to be released by LMS since being acquired by Siemens in late 2012. LMS, based in Leuven, Belgium, is now a business segment within Siemens PLM Software.
LMS says the ability of SoundBrush to simultaneously detect its position and then provide real-time visualization of the 3D sound field sets it apart from other acoustic analysis software.