It may come as a surprise that the company with the tiny market share in workstation CPUs and GPUs is largely responsible for today's high-performance, low-cost workstations.
By Alex Herrera
The beauty of semiconductor-driven industries is that prices always come down. Every successive generation of silicon process packs in more transistors than the previous generation, meaning the next revision of some solid-state device will perform a lot better for the same price, or cost a lot less for the same functionality. Or more often, the next generation sits somewhere in the middle, delivering better performance while at the same time demanding a little less coin.
And with this particular law of technology, everyone shares in the love. Because the beauty is not only in the eye of the customer—who is now well accustomed to always getting more out of his next purchase for less money than he shelled out for the last—but in the eye of the manufacturer as well. For the same reason customers get more for less, products reach obsolescence more quickly. Replacement cycles shorten and growth-oriented suppliers get to crank out generation after generation of products, gobbled up by consumers eager for the latest and greatest. Anyone who's witnessed their shiny new $500 smartphone out-performed by a cheaper model a few months or even a few weeks later, knows full well the urge to upgrade that is fueled by the semiconductor industry.
Of course, extolling the benefits of the continual advancements in silicon technology to workstation-wielding CAD and DCC professionals is like preaching to the choir. Few other industries have seen the benefits of mass-produced, economy-of-scale semiconductor components lead to as dramatic an increase capability and decrease in price tags. But today, workstation-class buyers are arguably in the best position they've ever been, to not only exploit the benefits of the latest round of new hardware but also profit from very aggressive pricing spurred by competitive pressure among silicon suppliers.
Fractional market share is not the point
There's one supplier in particular that can take a good chunk of the credit in recent years, and the name might surprise: AMD. Yes, the volume of its FirePro professional GPU business, inherited in the ATI purchase back in 2006, still pales in comparison to dominant Nvidia (83.0% to 16.1%, respectively). And in 2011, it's shipping a mere fraction of a percentage point of the CPUs that end up in workstations. But the company remains a force driving the tremendous price/performance today's CAD and DCC professionals see shopping for hardware today.
In the quarters immediately following the ATI acquisition, AMD's presence in professional graphics slumped considerably, as the latter struggled to assimilate the former. Unable to mount a credible threat to Nvidia, by mid-2008 AMD's presence in the professional graphics market had sunk to a low of 8.6%. But just as it bottomed, the graphics arm appeared to once again be hitting its stride with a well-engineered new GPU, the RV770, which spawned more competitive FirePro products, especially when it came to price/performance. AMD re-captured some market attention, parlaying that rebound to a stronger position with last year's Evergreen generation, one that shined a bit brighter in the context of rival Nvidia's delays with Fermi.
AMD's fortunes in the market grew, and by the fourth quarter of 2010, FirePro was back up to 16.1% share. Though still trailing Nvidia by a huge margin, AMD's resurgence had begun to put more pressure on market leader Nvidia, enough to push the prices for Quadro hardware down, particularly high-end models in and around $1,000.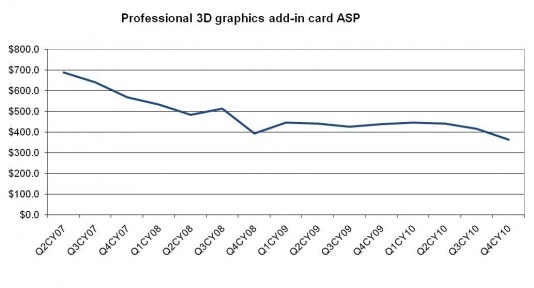 Now on the CPU side of things, a first glance of recent market data might lead to the opposite conclusion about AMD's influence. With Intel commanding nearly 100% of workstation platforms shipping today, the signs of a competitive market might seem hard to find. But just a few years ago, workstation platform leader Intel was under the gun—particularly in mid-range and above, dual-socket configurations for servers and workstations—from AMD with its upstart Opteron processor and DirectConnect architecture. Since then, Intel has not only regained share from AMD in servers, Intel now virtually owns the OEM workstation platforms, while AMD is essentially out of the market.
But we have to remember that without Opteron lighting a fire under Intel, we probably never would have seen the competitive generations of platforms since produced by Intel.
Without DirectConnect, Intel might still be wed to its old front-side bus architecture, rather than the superior (and extremely DirectConnect-ish) integrated memory controller that started with Nehalem back in 2008. No question, AMD might not have much to show for it in the workstation market today, but its push in the last decade yielded big benefits for the workstation-buying masses.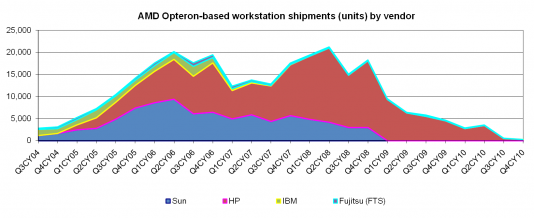 Fair market competition has always meant a win-win for customers, but today the premise holds especially true for CAD and DCC professionals. The hardware is far faster, far more energy efficient, and prices are dropping quicker than they have in the past. To those who sing the praises of a free-market economy, the trend is no surprise. Even in two segments so dominated by a single vendor, like workstation-caliber CPUs and GPUs, injecting a viable competitor in the mix will always yield benefits to the consumer, either by presenting new buying options or simply by keeping the top dog on his toes. So get your wallet out —there's never been a better time to shop for a new workstation or professional graphics card to boost your productivity.
Alex Herrera is an analyst for Jon Peddie Research.