Lenovo built its workstation business from scratch after taking over IBM's PC business, and is now taking market share from HP and Dell. The market is growing.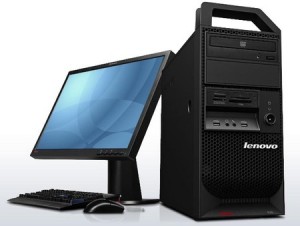 Lenovo has created several positions globally as part of its plan to increase sales in its workstation segment. While this may seem counter-intuitive in a day when the larger consumer technology market is focused on tablets, workstation sales are growing.
According to the most recent report from Jon Peddie Research, the PC workstation market recorded its first 1 million unit quarter in 3Q11. The total is expected to be higher in 4Q11 when the big traditional end-of-year orders come in. JPR analyst Alex Herrera noted in the report that Lenovo gained market share at the expense of both HP and Dell, in part due to its new joint venture with monitor vendor NEC.
Lenovo is doing what it can to seize the momentum HP abandoned in 2011, when former CEO Leo Apotheker said HP was considering selling off its PC manufacturing division. After the market went crazy and Apotheker was fired, new HP CEO Meg Whitman did a mea culpa and made it clear HP was not abandoning the PC market. But uncertainty was sewn and the damage was done.
Here's the summary from one of several new jobs specific to workstation marketing posted at the Lenovo Careers site:
Senior Manager of Marketing – Lenovo ThinkStation
Lenovo is seeking a senior professional manager to lead the product and brand management of its worldwide ThinkStation product portfolio. Individual must have prior marketing and management experience in the graphics workstation business. We have incredible momentum! Be a part of our next phase of growth! Posting #14319.
Why workstations matter
Tablets are essentially devices for reading and reviewing. They are not designed for day-in, day-out high-level creativity and productivity. Workstations remain the creative and professional tool of choice, and will so for a long time to come. Workstations sell at higher margins, and they generally sell in multiple units, simplifying the sales cycle. Lenovo is being smart to try to wrestle HP and Dell for a bigger share of the pie.