The Society for Information Displays gathered for its annual conference in late May. Last year OLED and LED were all the rage, but LCD has made a big comeback.
By Andy Patrizio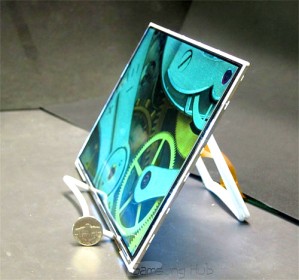 The display industry held its major conference and exhibition in late May, as members of the Society for Information Displays (SID) showed off a unique collection of new products and concepts at the group's annual conference in Los Angeles. Pixels are cheap and they're getting cheaper in the display world. The most obvious trend we saw at SID was that everything is getting a screen. The SID conference combines the pragmatic—what displays are people buying now and in the near future—with the advanced—what technologies are being developed for the displays of the future.
The show was largely dominated by Korean and Japanese vendors, with a respectable showing from the U.S. There were also a few surprises. The actual show floor was modest, confined to a portion of the West Hall in the Los Angeles Convention Center. If there was a common message from the show, it seems to be that the industry is throwing its weight behind Liquid Crystal display (LCD). Light-Emitting Diode (LED) and Organic Light-Emitting Diode (OLED), are coming along much more slowly than hoped or expected, and those technologies rode in the back seat for this year's SID.
There were some nice OLED displays, in particular a beautiful 13.3-inch flexible substrate from Sony that could be used in an e-reader. DuPont, which has developed technologies for OLED manufacturing, said it has produced manufacturing products for making OLED TV screens up to 52 inches wide and that the technology leverages existing LCD technology. But getting other vendors to adopt it was another matter.
The focus was on increasing the color and resolution of LCD screens. Apple set the bar with the Retina Display and everyone else is making the jump. Samsung and LG reps both said that LED was a separate unit of their respective companies they did not show LED displays at the show. Toshiba earned the most raves with a gorgeous 4-inch, 367 dpi screen that bests even the Retina display, and it was even more blunt about OLED. A rep from its booth said the firm had exhibited OLEDs at the last four SID shows, but there was none this time. Previous OLED phone designs were being shifted to high resolution LCD. "If people were serious about OLED they would be displaying it here. We're not serious about it any more," he said.
LCD everywhere
Toshiba probably had the most raved about single device at the show, but overall, the show belonged to Samsung. Its most striking display was a 46-inch transparent LCD that was fully touch-enabled. You could use it like a window, or as a large display where people can stand on both sides of it, and read the screen. In addition to transparent displays as a window or shared screen, Samsung also showed how the transparent panel could be used as a refrigerator door, so you can see inside without having to open the fridge, and also information can be broadcast on the screen. So imagine your local supermarket bugging you because it noticed you're running out of milk. In other words, we can stop talking about when a Minority Report world happens, that day has come.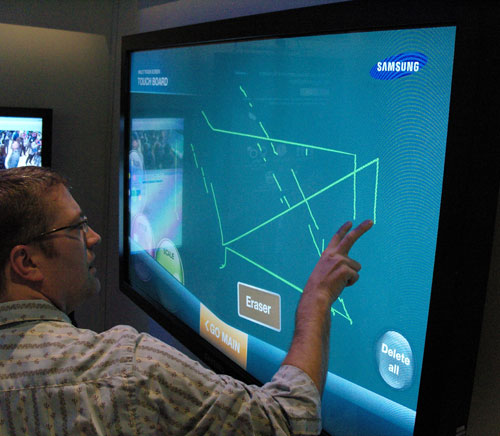 Samsung also showed off a 22-inch desktop monitor that was almost fully transparent. The monitor is powered by ambient light with 1680×1050 resolution and operates without a backlight. Samsung didn't give a price but it did say the screen would ship in the third quarter.
The company's show-stealer had to be the 10.1 inch, PenTile WQXGA 2560-by-1600 resolution tablet panel that draws 40% less power than older LCD screens. That's double the resolution of the Samsung Galaxy Tab 10.1 and five times the resolution of the iPad. At 300 dpi, it's almost on par with the Retina display and very close to the Toshiba screen.
Thinner is in(ner)
The display industry craves thinness as much as the fashion industry, and the trend continued at the show. Sony was one of the firms still sticking with OLED and it had a winner in its 13.3-inch flexible color e-paper device and glasses-free 3D displays. The color e-paper will give E-Ink a run for its money and may help put Sony back in the news for innovation. The e-paper is just 150 microns thick and weighs 20g when used in a plastic substrate. It has a 13 percent color gamut, a reflectance of 10% and a 100,000:1 contrast ratio. Resolution is 800×1200 with 75ppi.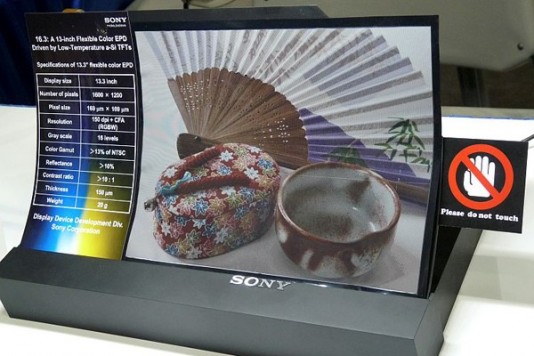 The display industry's love of thin doesn't just apply to depth but also bezels. Again, Samsung led the way, with a 55-inch display and a 5.7 millimeter bezel. They displayed nine monitors in a three-by-three arrangement and the thin bezels were barely noticeable.
Corning was exhibiting its vaunted Gorilla Glass. The glass has been around for years but it took Apple to show off the strength and beauty of the technology when it used the durable glass in the iPhone 4. At SID, Corning showed off a new 46" Sony Bravia TV with a Gorilla Glass screen that was just 0.7mm thick, instead of the typical 2mm thick and required no bezel. This was one skinny TV; it was about the thickness of a framed photo.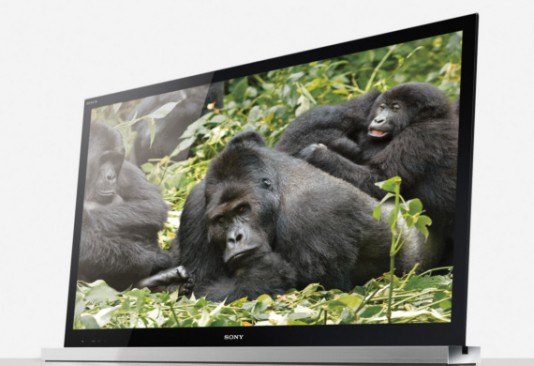 On the other end of the spectrum was Zytronic, which showed off its new capacitive touch sensors. The company said its sensors can respond to a gloved hand and work within glass as thick as 7mm. This would enable its use in medical systems, machinery or home appliances, such as stoves and ovens.
Making 3D work
There were two fixes to the current crop of 3D on display: either newer, smaller glasses that were less annoying than the goggles we have to wear now, or attempts to get around the need for glasses altogether via auto-stereoscopy, which offers viewers different screen images for the left and right eye.
Increasingly the term multi-view is being used. LG Electronics had a number of thinner glasses, including a pair of clip-ons that people who use regular glasses can wear. The company also displayed a number of smaller 3D glasses frames, so people don't have to wear glasses as big and bulky as they are now.
Samsung showed a laptop with a 17-inch monitor that could switch between 2D and 3D. The company says their monitors, developed in conjunction with RealD deliver 2D and 3D with no degradation of quality. The company says, "unlike film patterned retarder (FPR) based 3D displays that cut resolution to each eye in half. Rather, the use of RealD's active shutter offers a brighter image."
The most striking glasses-free 3D display came from the German research center, Fraunhofer, which showed a 50-inch set that did indeed have 3D viewing. True to multi-view requirements, you had to find the sweet spot for optimal viewing. In this writer's case, the sweet spot was lightly to the left of center of the set. Multi-display approaches, like that of Fraunhaufer, are definitely getting more powerful, but 3D viewing at a family gathering is still going to be a bit awkward.
E-Ink's big push
E-Ink already is the first name in e-readers, thanks to the Kindle, but it's not resting on its laurels. The company is pushing forward on a number of initiatives:
Higher resolution readers: It showed very finely detailed graphics that will make it suitable for textbooks and other reference material that need elaborate artwork.
Pan and zoom: Finally, e-readers will let your fingers do the walking. You'll be able to zoom in and drag images around.
Color: Already announced, E-Ink's Triton color e-book won the Display Component of the Year from the SID voting committee. It offers four-color reading equal to that of the standard black and white model, but with a 20 percent faster page update times compared to the older generations. E-Ink had a creative display to show off the first color e-reader: its e-reader sat atop a pile of old textbooks.
Input: The E-Ink screen has been read-only up to now, but the company showed off a pen input reader with 300 dpi of resolution and multi-color support. The booth reps gave no indication when this would be ready.
A Snowboard Odometer: I kid you not, they showed off a snowboard with an odometer with things like time, temperature and direction.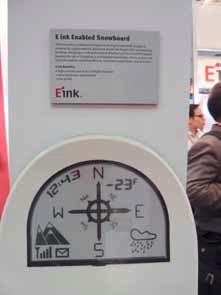 Touch screen advances
There several advances in touch technology, starting with the Samsung and Toshiba LCDs that put the touch sensors inside the pixels, thus eliminating a layer of the screen. That translates to one less layer of thickness for the screen. Ocular showed off a 15.6-inch projected capacitive touch display, called Crystal Touch, that supports up to 16 simultaneous touches. The panel is just 1.6mm thick, making it suitable for tablets and laptops. The panel will be affordable too, at $109.
Touch Revolution integrated one and two-finger touch into its upcoming set of monitors—a 15-inch, 19-inch, and 21.5-inch model—with a 32-inch model due in the fourth quarter. The 15" model will go for $699, the 19" model for $799 and the 21.5" model for $999. The company plans to add four and ten-finger support in the coming months. Its monitors work with Windows and Linux and allow users to manipulate images on a screen through actions like pinch to zoom, drag and pan.
The surprise of the show came from an unlikely source: Walt Disney Co. Its Disney Research arm showed off the TeslaTouch, a touch-screen table that looks like Microsoft Surface, but it simulated the feel of whatever object you were touching. If you were running your finger over wood, it felt like wood grain under your finger. If it was metal, it felt like a sheet of metal.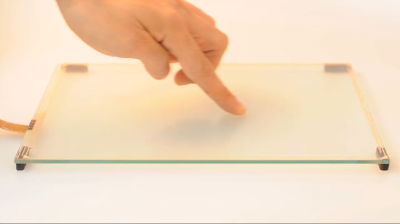 Transition period
The display industry is scrambling to meet demand for tablets and mobile phones with touch and also the expected continued growth of e-readers. As a result, technologies that seemed so hot just a couple of years ago, OLED and LED have been shunted off to the side for a while. Some of the companies we talked to at the show, seemed to see a bleak future for these technologies but most companies have said that the market has simply slowed as everyone races to build capacity for tablet-sized LCDs.
The emphasis was on screens big (46 inches and up) and small (tablets and smaller). Desktop monitors were rare and far between. The industry clearly has the handheld market in its sights. Now we just need more than one successful tablet.
Industry analyst Andy Patrizio is a contributor to TechWatch from Jon Peddie Research, where this article first appeared.