New KeyCreator Analysis features auto-meshing technology to simplify set-up time and simultaneous calculation of multi-physics simulations. It is combined with KeyCreator direct modeling software.
Kubotek USA is introducing a new multi-physics finite element analysis (FEA) program that combines ease of use for novice users with high-level accuracy required by expert users. KeyCreator Analysis includes KeyCreator direct modeling CAD software, which has become popular in recent years in large aeronautic and automotive manufacturers because of its reputation for solving interoperability problems.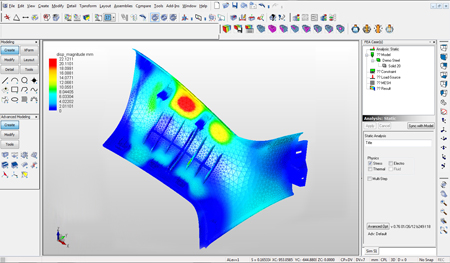 With the rise of more powerful workstations it has become possible to push simulation forward in the manufacturing workflow and make it part of the initial design phase. As with all aspects of engineering, the sooner changes are made the less cost is added to the process. But the problem with pushing simulation into design is that such analysis has in the past been done by experts; most designers only have a basic background in FEA.
Rather than simply take an existing and complicated FEA solution and tie it to their existing MCAD modeler, Kubotek decided to start from scratch and build a next-generation FEA solution that didn't require a simulation specialist. Nearly two years ago, Kubotek began a joint development project with AMPS Technology after having reviewed proposals from other FEA developers. AMPS proposed a solution that took full advantage of KeyCreator's direct modeling and offered new solutions to streamline setup and calculate results. AMPS calls the result Sefea  ("see-FEE-ah") technology, short for strain-enriched finite element analysis. (For those who want to dig in to the details, AMPS and Kubotek have published a white paper with explanations and benchmarks.)
Kubotek says Sefea technology speeds analysis time in several ways, including internal processing of analysis equations, simultaneous calculation of multiple physics problems, the use of a less-dense mesh, and lower memory requirements. The user interface is based on simple tree-driven menus. Kubotek says the result is an FEA tool that can deliver multiple design iterations in minutes instead of hours or days.
Kubotek expects to ship the software within the next 60 days.