A variety of vendors will compete for this rapidly growing space. Stereoscopic 3D in mobile devices will have many applications beyond gaming.
Just as cameras and GPS became mainstays of mobile phones and tablets, Jon Peddie Research believes based on its research that the next must-have feature on mobile devices will be stereovision 3D (S3D) capability. It's not just about games; the addition of two cameras will enable gesture-based controls, advanced augmented reality applications, visualization with depth, and real-world data capture.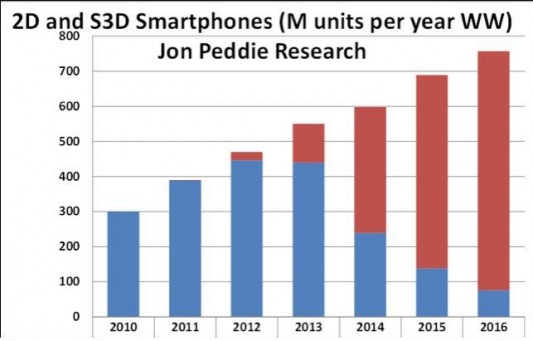 In a new study on mobile devices JPR recently completed, entitled "Mobile Devices and the Semiconductors in Them: Too Many Products, Too Many Suppliers?" the forecast calls for 80% of new smartphones to ship with stereo 3D cameras and screens by 2015. Smartphones and tablets may not be the only mobile devices to embrace S3D. JPR looked at several mobile devices that use advanced semiconductors or system on a chip (SoC) and found the demand for mobile devices has exploded, creating a market for over two billion processors.
Forecast highlights:
Over three quarters of a billion smartphones will ship in 2016
Feature and other phones will hit 869 million units in 2016
Almost 300 million tablets will ship in 2016
E-book reader shipments could reach 100 million a year by 2016
Handheld game consoles will hit 91 million by 2016
S3D will require processors more powerful than the ones running today's smartphones. JPR says the processors powering these new mobile devices will be truly amazing by today's standards, consuming remarkably little power, built in the latest nanometer technology, and delivering unbelievable performance and functionality. And although all of the devices will share some functionality and capabilities, no single device will kill any of the others, at least immediately. Each device will have a different form, primary function, and price. All will be connected all the time, and most will have 3D displays and cameras.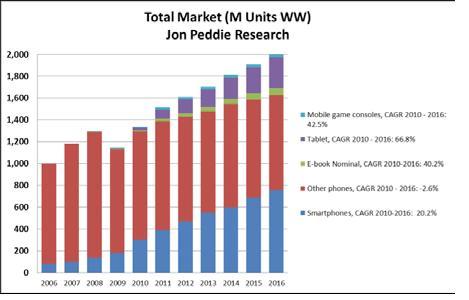 More than 16 processor companies and four IP suppliers will be chasing this market. Compared to the four or five processor companies chasing the PC market, the mobile processor market is overpopulated four to one.
The new JPR market study includes a historical perspective that illustrates the sharp growth devices have enjoyed recently. For example, he first standalone tablet was the GRiDPad in 1989. In 2001 Microsoft reinvented the concept calling it a "pen computer". And then in 2010 Apple brought the category to life with the iPad. The first smartphone was the IBM Simon in 1992, then Nokia entered the market 1996 and since then, the segment has taken off like a rocket. The concept for the e-book came from Michael Heart in 1971, and the first battery powered standalone unit was the Rocket eBook in 1998, but it was the Amazon Kindle that lit up the market in 2007.
Other popular mobile devices like game consoles, navigation units, portable DVD players, and digital picture frames all use high resolution screens and sophisticated processors known as systems on a chip (SoC).
For more information about the Jon Peddie Research report on the Mobile Market, visit the JPR website. A free executive summary is also available.