The first major advancement in CAD geometry since NURBS has become popular in industrial, commercial, and architectural design. The fate of T-Splines plug-ins for Rhino and SolidWorks is uncertain.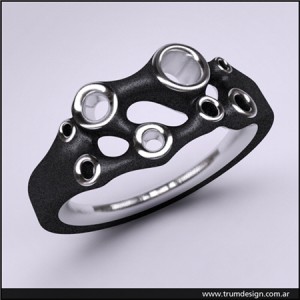 Autodesk has acquired the technology-related assets of T-Splines Inc., a privately-held surface modeling software company based in Utah. Terms of the transaction were not disclosed.
T-Splines has developed a patented surface modeling technology that allows designers to add local detail and control only where needed in a single surface.  T-Splines surfaces typically have 50-70% less control points than the equivalent NURBS surface, allowing for faster and more controlled direct editing and shape optimization. Curves created in T-Splines are known for being "watertight," a term that implies a complete, smooth connection between two surfaces in transition, without CAD-created gaps that can plague a complex surface in some NURBS-based products. T-Splines also avoids the need to create rectangular surface patches to define a complex surface.
The two T-Splines shipping products have been plug-ins for Rhino and SolidWorks, and have become popular with designers in architecture, jewelry, consumer products, and industrial design. T-Splines also has been offering a software development kit to other vendors who want to incorporate T-Splines technology. In a statement to customers, former T-Splines CEO Matt Sederberg says "Autodesk is currently investigating an approach to continue selling the T-Splines plug-ins." Sederberg will be joining Autodesk as a product manager. "I will continue to be on the forums periodically as will some of the developers you have worked with in the past," he told customers.
The acquisition is coming from the manufacturing group at Autodesk. "The technology acquisition will strengthen our portfolio with more flexible free-form modeling and will help achieve even closer integration between industrial design and engineering workflows," says Buzz Kross, senior vice president. "T-Splines technology will benefit designers and engineers that require watertight surfaces for downstream analysis and manufacturing."