The event has become a fixture for journalists attending the annual conference on computer graphics.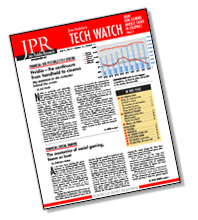 Jon Peddie Research (JPR) continues its long-standing tradition of hosting a working lunch for members of the press attending Siggraph 2012 in Los Angeles next month. The theme for this year's luncheon is "Doing More with Multicore."
After a buffet lunch, JPR president Dr. Jon Peddie will interview each guest expert, followed by a question and answer period for the journalists. There will be time reserved for one-on-one interviews.
The topic, "Doing More with Multicore" will give the guest speakers a chance to debate and discuss various different aspects of putting multiple CPU and GPU cores to work. "What technology is best suited for what jobs?" asks Jon Peddie. "New multi-core development strategies are being put to work for high-performance computing, for advanced rendering, for work in the cloud, but how does it play in the palm of your hand? The processors are multiplying in handheld devices, phones, and tablets. These new devices aren't just small computers … or are they?"
In addition to the opportunity to talk to the assembled experts, there will be door prizes donated by event sponsors including:
Amazon Kindle Fire, donated by Imagination Technologies
AMD FirePro V7900 workstation graphics board, donated by AMD
HP Folio 13 Ultrabook, donated by Hewlett Packard
Sony PlayStation Vita, donated by Lightworks
Nvidia Quadro 2000 professional graphics board, donated by Nvidia
Two subscriptions to Jon Peddie Research TechWatch, donated by JPR.
The event is Wednesday, August 8, from 11:45am to 2:00pm in the Plaza 3 room at the JW Marriott LA Live Hotel, 900 W. Olympic Blvd. The meeting is near the Los Angeles Convention Center, site for Siggraph 2012.
RSVP is required; journalists attending Siggraph may sign up for the free event on the JPR website.