Alive and well after the recession, the CAD industry will hit $7 billion in revenue by the end of 2011.
Jon Peddie Research (JPR), the leading research and consulting firm for graphics and multimedia, has released the Worldwide CAD Market Report 2012.
The CAD market, one of the largest and most established software markets is dynamic and growing in new directions:
The CAD Market was worth approximately $5 billion in 2009. It reached $6.4 in 2010 and $7 billion in 2011.
JPR puts the total number of CAD users at 18.5 million in 2010 and expects the user base to increase to 19 million in 2011.
The world is getting rounder in terms of CAD use. CAD revenues are split 37% for the Americas, 38% for EMEA, 21% for Asia, and 4% for ROW.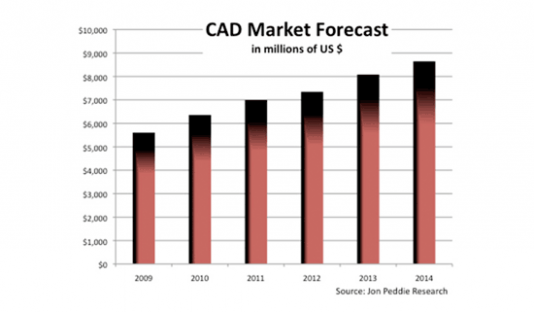 There are several important trends affecting the growth of the market, including:
Worldwide all markets slowed down during the economic recession of 2008-2009 but the engines are starting up again. Asia and India barely slowed and new markets are joining them including Latin America, Africa, Southeast Asia, and the Middle East.
In the near term JPR sees slowed growth in several markets as economic uncertainty in the U.S. and Europe bedevil the recovery. The hardest hit market will be AEC (Architecture, Engineering, and Construction).
New platforms and new distribution models will lead the market. CAD has long been a high-value product and CAD companies have jealously protected their high margins. The new opportunities opened up by cloud computing, apps, and tablets give CAD companies an opening to "have it all," high volume, low-cost consumer apps along with new ways to offer boutique services to valued subscription customers.
Leaner, more efficient companies are ready to rebuild after the recession years, looking at ways to retool their businesses for more efficiency.
The CAD report includes market share data among the major CAD vendors, provides geographic data, and takes a closer look at the larger sub-segments: MCAD, AEC, Process & Power, and GIS. Also included in the report are market forecasts to 2016 and a discussion of the trends that have influenced our forecast. As a bonus, companies buying the CAD report will have access to online company profiles.
JPR's 2012 CAD report provides an historical perspective and a look at the future. While the market has seen plenty of commoditization, there are new entrants, and broad opportunity for specialized products.
JPR Senior Analyst Kathleen Maher notes that "today, the CAD industry is more dynamic than ever. It is involved in every aspect of design, build, construct, and manufacture. Increasingly, CAD is becoming part of a visually connected world that can be understood and better managed. There are opportunities in new platforms, new technologies, and new customers in emerging economies. It's a very good time for the industry."
For more information and to order the report, visit the JPR website.