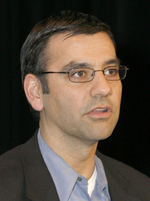 The surprise move put the AEC division under an unscripted spotlight at last week's Autodesk University. It is a good time for a shake-up in the division; Bentley is gaining ground.
In a move seen as positive by many inside and outside Autodesk, Jay Bhatt made the surprise announcement that he's leaving Autodesk to become the CEO of Progress, an AEC software developer in Bedford, Mass. near Autodesk's East Coast AEC headquarters. The news was announced to press and analysts at Autodesk University by a triumvirate of Autodesk AEC execs: Jim Lynch, Vice President for Building and Strategic Technologies, Mark Strassman, Vice President of Construction and Plant, and Rick Rundell, Senior Director for AEC Strategic Planning. The three conducted an  informal meeting and said they planned to stay the course and the course is BIM, as you might expect, but also fabrication and expanded use of Autodesk tools and into a new model that pushes the idea of "prototyping" buildings.
Jim Lynch said the move was "a great opportunity for Jay," and added that Autodesk wished him well. Lynch says there is a search to replace Bhatt and in the meantime he'll be the interim head of the division.
Lynch and his colleagues told the audience that the construction site is changing. They said that 75% of the work in AEC happens on the site, yet for the longest time the information related to the project has been at the office and in a trailer on the site. Why? They asked. Why can't data be accessible where people need it via the tablet and iPhone. This is something Autodesk has been pushing via Buzzsaw.
Autodesk has been building a new team for the Plant industry. Strassman said they've been building for three years to address the challenge of 3D in the plant industry. Much of the work done in plant design and maintenance has been done in 2D because, says Strassman, the 3D software has been to hard to use. That view is backed up by studies from McGraw-Hill and Daratech. Strassman says Autodesk has significantly increased the use of 3D in the plant industry.
We'll note that we've also seen an impressive uptick in 3D plant design at Bentley systems and point out that the industry has been dominated by an old guard for a very very long time. The drive for new energy solutions, better efficiencies, and new technologies including point cloud data gathering has also helped pushed the industry into 3D approaches.
Autodesk has been on an acquisition binge and one of the companies it has acquired is MAP, Micro Application Packages. Autodesk acquired MAP a company based in the U.K. that develops tools for the Mechanical, Electrical, and Plumbing industry (MEP). MAP will help Autodesk add tools for fabrication in AEC. In addition says Rundell, Autodesk has put together a new group in Construction. The emphasis is expanding the capabilities of Revit to address the evolution in construction.
What do we think?
One of the ongoing themes of BIM and AEC has been the high level of waste inherent in the AEC industry and specifically in construction. The percentage of waste is put as high as 30-35% and it stands in stark contrast to manufacturing which has considerably improved efficienies over the years. The meeting was held the day before Autodesk University and Carl Bass' announcement of Autodesk's new PLM strategy. Lynch, Strassman, and Rundell were helping lay the groundwork for Autodesk's new data management products. Nexus, while developed within the Manufacturing group has been envisioned as an enabling technology for all of Autodesk's customers. And, Buzzsaw is one of the key components of Autodesk 360, Autodesk's name for the technologies it has brought together for data management. Buzzsaw is collaboration technology developed for the construction industry. As a matter of fact, Jay Bhatt came to Autodesk with the acquistion of Buzzsaw.
Bhatt leaves Autodesk's AEC group at a good time. They group is redefining itself and it promises to improve its communication and outreach. It has not done a great job in the past, and Bentley Systems has enjoyed notching a point or two higher every year in its competitive race against the group. At Bentley's Be Inspired Event held earlier in November, Greg Bentley told the audience, we're not that far behind [Autodesk's AEC Group], and he was right.
It's time for Autodesk AEC to get a move on.