The popular complement to Autodesk Inventor and AutoCAD is now a free download through Autodesk Labs.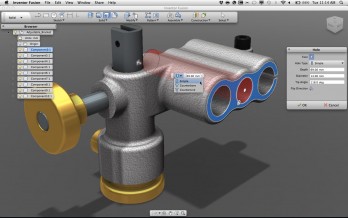 Autodesk has released a Mac OS X version of Inventor Fusion, the freeform editing and interoperability software that unites direct and parametric modeling workflows. Autodesk uses Inventor Fusion and its other Labs releases as a test bed for new ideas that eventually make their way into commercial products.
Autodesk says more than 200,000 Windows users are currently working with Autodesk Inventor Fusion. The Mac OS X version is Autodesk's first mechanical modeling software native to the Mac platform. Because it can open and edit most 3D CAD models, Mac users now have a new way to collaborate with users of most leading 3D CAD products. The 3D direct manipulation tools in Inventor Fusion for Mac allows users to open and edit 3D models from almost any source and incorporate them into new or existing designs.
Because it is a Labs product and available for free, Inventor Fusion for Mac does not come with technical support or subscription options. The community of users that work with software from Autodesk Labs support themselves, with encouragement from Autodesk personnel, on a variety of social websites, including a new Wiki Help Site for Inventor Fusion for Mac.
Autodesk Inventor Fusion for Mac System Requirements
AppleMac OSX v10.6.8, OS X v10.7.2 or later with 64-bit Intel processor
Apple MacPro 4.1 or later; MacBook Pro 5.1 or later (MacBook Pro 6.1 or later recommended); iMac 8.1 or later (iMac 11.1 or later recommended);
3 GB of RAM (4 GB recommended)
2.5 GB free disk space for download and installation (3 GB recommended)
Supported graphics cards listed below; additional graphics card could be supported in a future version
1280 x 800 display with true color (1600 x 1200 with true color recommended)
All Mac OS X supported language operating systems
Apple Mouse, Apple Magic Mouse, Magic Trackpad, MacBookPro Trackpad, or Microsoft-compliant mouse
Autodesk Inventor Fusion for Mac supports iMac, Mac Pro, and MacBook Pro machines with these graphics cards: