With over 22 million accounts, WeVideo is still in the process of making video editing tools cost effective and easily accessible to all.

Video processing had been associated with high costs as well as complex hardware and software resources. But today it is no more the exclusive domain of professionals. Online video editing platform like WeVideo is working hard to make video editing tools accessible to all.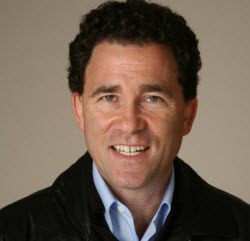 GraphicSpeak spoke to Andrew Baum, President and CMO of WeVideo. He talked about WeVideo's background, offerings, breadth of customers, and more.
GraphicSpeak (GS): Tell us about how the company started?
Andrew Baum (AB): WeVideo evolved in 2011 out of an education company called Creaza that was focused on education in Europe. It became clear that the tools would be very useful for everywhere in the world for education and other markets so WeVideo was spun out of Creaza about 5 years ago and is completely independent.
GS: Is WeVideo a cloud-based application?
AB: Yes, the application is cloud based and is a deep video editing platform that supports collaboration and connects with sister mobile products on iOS and Android.
GS: Is there any desktop version too?
AB: The desktop is a web-based product that works in any browser and there is no software to download for the desktop web browser version. We use the power of the cloud to turn any desktop into a high powered video editing machine. WeVideo even works well on Chromebooks. The company offers different plans for individuals, businesses, and educators. Plans start from $5/month, while a free version is also available.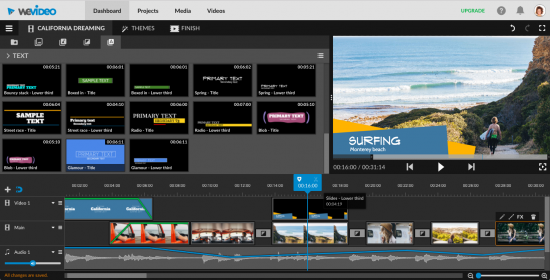 GS: What are the challenges of video editing in the cloud?
AB: Historically, the challenges have been the time to upload the files and having a rich feature set with the functionality needed. But we have overcome it with our JumpStart technology which means users can start editing immediately without waiting for video, audio, and graphic assets to upload to the cloud. We also have provided rich features now like the broadcast quality motion titles, green screen, speed control, color correction, screen casting, picture in picture (PIP), and much more. People are amazed when they see they can edit right away before uploading. They don't understand how this could be.
GS: Well then, how could this be?
AB: You can actually see the actual status of the uploads while you are editing on the timeline in the assets window as a measure and for peace of mind that the assets are actually uploading. In this case, the browser is acting as your client and when the user identifies the desired local assets, they give the browser access to the media so that WeVideo can use it for all editing functions locally while it is being uploaded.
GS: Why did your company choose the cloud?
AB: We chose the cloud so we could remove the barriers of complex hardware and software. Cloud eliminates the need to download software and the use of expensive hardware. It provides ability to collaborate all around the world and access a project anywhere on any computer. Also, there are great efficiencies by using the power of the cloud to scale, store, and share. People can even edit in 4K on our product and we support unlimited tracks of video. People get blown away to see real-time editing in 4K.
GS: WeVideo is the exclusive video editing partner in Google's Creative Apps for Chromebooks program and it is a Microsoft Education partner also. Tell us about this partnership.
AB: Google has been a huge supporter. Early on, we were the choice for editing on YouTube. Now, WeVideo is a Google for Education partner and is the exclusive digital storytelling solution for Google's Education Creative Bundle for Chromebooks. On Google Chromebook Bundle, we are exclusively available through the Google channel in US and Europe.
As far as Microsoft, we are working very close with them in education channels and you can expect to see much more in the future along those lines.
It's amazing to see the breadth of customers we have — from schools to businesses, churches, gamers, vacations, births, communications, etc. Our idea was to make video editing accessible to all.
GS: Which segment of user base has benefitted the most from it?
AB: Historically, education K-12 was the biggest segment getting benefits. But right now we are seeing the biggest growth coming from businesses and SMBs. We are growing year-to-date (YTD) at 100% year-over-year (Y/Y).
GS: What latest formats are supported?
AB: We support over 600 formats of video, audio, and images including h.265, HEVC, PDFs. A lot of people use WeVideo because they can't get support for their files on traditional software.
GS: What specific features does WeVideo offer professionals like filmmakers and video producers?
AB: It has green screen with great spill suppression, keyframeable audio and images, PIP, etc.
GS: …and feature like live animation, audio, motion graphics, etc.?
AB: We are not trying to replace Adobe Premiere Pro, Apple Final Cut Pro, and Avid Media Composer.  We offer the tools for everybody else who wants and needs video in their business, schools, and life. We do screen casting, beautiful motion graphics, and titles. A user simply picks a template, adds text, chooses their preferred fonts, colors and sizes, and the title is done. Hundreds of small agencies use our products.
GS: Does it include HDR, 4K, and VR?
AB: Right now it's 4K ultraHD. No VR yet, but nothing will stop us if enough people want it.
GS: But virtual reality is gaining momentum. It is reaching consumers and small businesses.
AB: VR is definitely picking up after 20+ years. I was working on it in the 90's back at SGI.
GS: So should we expect to see some of it in WeVideo in future?
AB: We are keeping a close eye on VR. The more traction it gets, the more likely we will move on it. But right now it's the time for video. We are seeing unbelievable pick up and are growing very fast. We have over 22 million accounts. In fact, we have the entire country of Denmark on our education platform. I get most excited when I see what consumers are doing and how they feel about what they can do.
GS: What are WeVideo's future perspectives? What can its users expect to see next?
AB: They can expect to see even more robust features, especially for businesses. We are on a roll as far as getting our customers what they want. We will be introducing some great new features on our mobile platforms as well; and new partnerships that will increase our channel.
For details on WeVideo products, visit their site.