PTC says ThingWorx will complement existing Service Lifecycle Management and Product Lifecycle Management portfolios.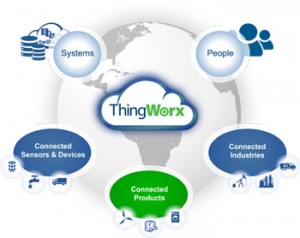 PTC today said it has acquired ThingWorx, creators of a platform for building and running software applications for the Internet of Things (IoT). PTC claims the acquisition positions the company "as a major player in the emerging Internet of Things era."
The purchase price was approximately $112 million, plus a possible earn-out of up to $18 million.
In justifying the purchase, PTC quotes a recent report from the McKinsey Global Institute, "Disruptive technologies: Advances that will transform life, business, and the global economy." The report claims the Internet of Things (IoT) has the potential to create economic impact of $2.7 trillion to $6.2 trillion annually by 2025. McKinsey claims perhaps 80% to 100% of all manufacturing could be using IoT applications by 2025, leading to potential economic impact of $900 billion to $2.3 trillion, largely from productivity gains.
Examples of IoT technology for manufacturing include the ability to track the flow of products through the supply chain, keep track of physical assets, and manage the performance of individual machines and systems.  PTC says ThingWorx technology will allow its customers "a means to establish a secure, reliable connection to their products as well as a platform to rapidly develop applications for monitoring, maintaining, and operating them, and ultimately for finding ways to create new value from them."
Following the acquisition, PTC says ThingWorx will continue to help customers in a wide range of industries seeking to leverage the IoT, including telecommunications, utilities, medical devices, agriculture, and transportation, as well as an emerging partner network of IoT-enabled service providers.
What do we think?
PTC talks the acquisition up as an ambitious game-changer, and it may be a sly move that will pay big dividends in the future, but much about this deal feels like an act of capitulation, not leadership. Of the Big 4 in PLM, PTC was probably the only one interested in ThingWorx technology at this stage. Autodesk is building a PLM platform for SMB manufacturers, Dassault is too enamored of "3D experiences" to buy a software applications platform, and Siemens PLM is content to stick to the basics of product design and management. PTC is the one extending itself into new areas including Asset Lifecycle Management and Service Management, and one more new venture couldn't hurt, right? The answer may be years in coming.
Here's another perspective: In 2011 we reviewed the book "Shaping Things", a roadmap for the Internet of Things and the future of manufacturing from science fiction writer and journalist Bruce Sterling. He envisions not only a world where you Google your missing work boots, but also a world where PLM-type data becomes accessible not only to the manufacturer but also to anyone with an interest—even if only curiosity—about an object and its relationships. Sterling calls Internet-enabled objects "spimes" and describes how a IoT world can benefit all of us, not just manufacturers:
When running shoes are spimes, you can determine what percentage of the insole has been worn off as micro-particles, what quantity of those micro-particles you may have inhaled, how that compares to every other owner of this particular model of running shoe, and how many of you turn up with a statistically significant specific illness as a result. The accumulating metadata about your running shoes becomes a multi-purpose database of design feedback, consumer preference, medical forensics, and possibly lawsuit fodder."