The first four of many will be on the market by the end of the month. How will Apple respond?
By Jon Peddie
Intel previewed a wave of Win8-based tablets in San Francisco over the past week. They were powered by the new 32-nm Atom Z2760 Cloverdale microprocessor the company introduced hoping to make a dent in the rapidly growing mobile market.
Set in the delightful San Francisco Museum of Modern Art (SFMOMA), the event brought together an assortment of major computer vendors, who showed the press the tablets they would be bringing out with Microsoft's Windows 8 announcement later this month.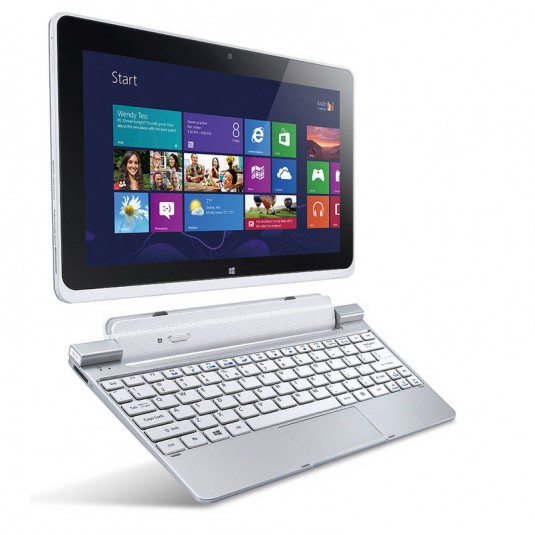 The event began with a waaay-too-long introduction to tablets by self-professed Intern Queen Lauren Burger.  Intel's Eric Reed, GM of the Applications and Processor division, then brought managers from Acer, Asus, Dell, Fujitsu, HP, Lenovo, Samsung, and ZTE on stage for their five minutes of fame and a chance to show us what a tablet was. Some of them were very clever and interesting—the tablets, that is. The Asus Vivo Tab, Lenovo ThinkPad 2, and Samsung units had Wacom tablet technology for very accurate stylus use, and Samsung says their new tablets will feature 1024 pressure levels (on the Series 5 Slate PC).
Dell bragged about the Latitude 10's enterprise-ready capability (and paid for it by having the thickest unit at 10.5 mm), and the ever-clever HP showed the thinnest tablet, the 8.5 mm Envy x2 convertible, while Acer demonstrated its Iconia W510, also a convertible. All of the tablets and detachable tablets were in the 10-inch to 11-inch range, weighed in at as little as 1.5 pounds, and were in the 9-mm average thickness range.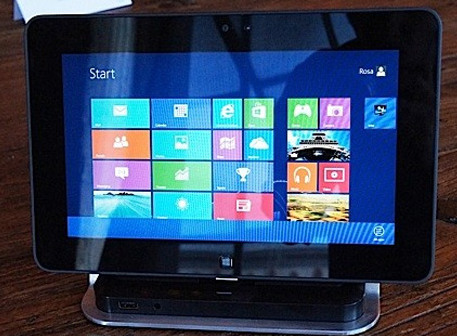 The tablets from Acer, Asus, Dell, HP, Lenovo, Samsung, and ZTE were new Atom Processor Z2760 tablets. Acer, Fujitsu, and ZTE also brought their Core i5 tablets.  All of the tablets looked good, and it was surprising to see a ZTE representative in the mix. However, the ZTE V98 won't be available until January. Samsung was the only company at the SFMOMA showcase to name a price for its upcoming product: $649 as a tablet and $749 with its dockable keyboard attached.
But the presentation missed the mark and got off on the wrong foot. No one in the audience had to be told a tablet is a cool thing. And not many (if any) really gave a damn about how some used-to- be-Y-gen'er spent her day. The message Intel had to deliver, and barely did, was a tablet running Win8—the real operating system. Now you can do things on a tablet that you couldn't do before, like run legacy apps and use files from those programs. In addition, Intel didn't really talk up their vPro technology, or enhanced antitheft technology, Secure Key, and OS Guard, identity protection technology, or Intel's Trusted Execution Technology.
Truly a missed opportunity with time wasted by a silly floor show. Intel and its partners/customers are counting on Windows 8 to give them a slice of a market that Apple's iPad dominates. Most of the other tablets that are getting the rest of the market are running on Android; Win8 is the third major company OS to enter the market, and it will do so with two version of its new OS, one for x86 processors and one for ARM processors. Microsoft will bring out its own 10-inch ARM-based tablet running WinRT on an Nvidia Tegra processor.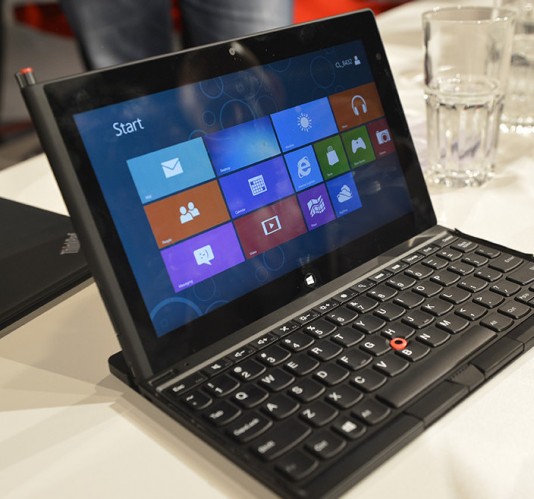 Windows 8 presents applications in its Metro interface, a mosaic of tiles to allow for touch-screen navigation and to highlight real-time information from the Internet. The revamped operating system also can be adjusted to work on traditional laptop and desktop computers with keyboards, with touch too if the notebook is so equipped. That versatility is meant to appeal to office workers and others who want to use their machines to create content, as well as consume it. To cater to that market, some tablet makers are designing hybrid machines that include a keyboard that can be untethered from the display screen.
Our take
We are about to enter the four-horse tablet race—or will it be a tablet war? Tablet PCs have been with us since before the turn of the century (and before that actually, but don't let's go there), and Apple redefined them in 2010. In 2011 Google released Android 3.0 (Honeycomb), and a slew of tablet builders embraced it and brought products to the market, gaining about 48% market share according to a recent Pew Research poll. In a couple of weeks Microsoft will bring us two new tablet operating systems, WinRT and Win8. There are, of course, some other specialized Linux derivatives in the market, but in terms of big brands—Apple, Google, and Microsoft—we have basically four tablet operating systems.
Microsoft's entry into the tablet market, with both OS and a tablet of their own, the Surface, will definitely put a weight on Apple's growth rate. We wouldn't say it will be an asymptote because Apple brings too much to the party to be easily stopped by another OS, no matter who it comes from. But, Microsoft will definitely steal share from both iOS and Android. So far Apple's main line of defense has been in the courtroom, and it will be interesting to see if the litigious Cupertino giant is willing to do battle with one of the world's largest IP holders and its battalion of lawyers.