The company best known for TurboCAD is carving out a niche in mobile.
Today IMSI/Design announces TurboReview for iPad, the latest in its growing line of AEC mobile viewing products and the first to offer review and mark-up of 3D PDF files.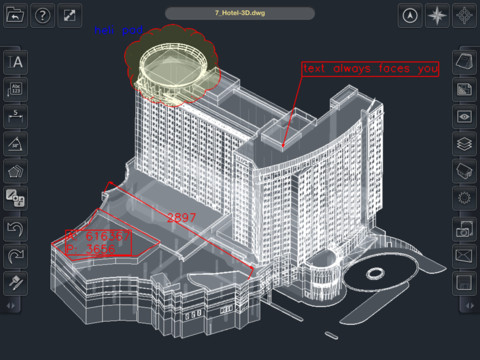 Notable among product features are two orientation features: first, text added to the 3D PDF is always facing forward, even if the 3D model is rotated; second, arrow leaders added for review can snap to a 3D object.
TurboReview is the fourth AEC viewing app for iPad from IMSI/Design, best known as the maker of TurboCAD. Other products are free and paid versions of TurboViewer, which was the first to support full 2D and 3D viewing of DWG files on the iPad.
Other features include:
Mark-Up Features
Red-mark tools: Markup 2D and 3D objects using:

Line
Circle
Rectangle
Revision cloud
Highlighter
Text

Rectangular text box and leader
Inquiry tools: Distance/Dimension; Angle; Perimeter; Area
Layer Manager – Layer view manager to turn layers on/off, invert layers, turn all layers on/off
Layout support – View model space and now paper space layouts in your drawing
Create screen shots of drawings and markups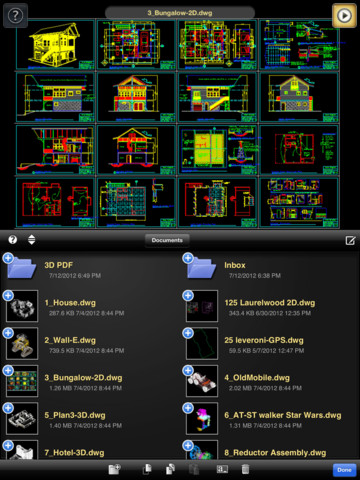 Viewing Features 
Multi-touch navigation; Pan, zoom, and 3D orbit around document
A variety of visual styles include wireframe, hidden line, x-ray, gray scale, shaded, shaded without outline, and more
Adjust edge color range from white-gray-black
Adjust x-ray transparency factor
Option to use default or model lights (if any in drawing)
Option to render both inside and outside model (force two-sided rendering)
Custom perspective view – view 3D models in realistic perspective angles with the ability to view in human eye perspective or specify custom camera lens sizes in mm
AutoCAD SHX font support – Native SHX font support to view localized or custom SHX fonts in the drawing file
TrueType font support – Native TTF font file support to view True Type Fonts in drawing file
Supports AutoCAD linetypes – Maintain visual fidelity as intended
Restore saved AutoCAD views
Usage options
Tactile sound feedback – Sound confirmation for button and UI item selection
Autosense for 2D or 3D drawings – Option to automatically set appropriate gesture navigation of a drawing or model
Option to use two fingers to 3D rotate/tumble or constrain orbit
Navigate full-screen preview during file load; Cancel errant file load
File Sharing, Interoperability, and Localization 
File Management:  Create sub-folders; Cut/Copy/Paste/Rename files and folders
Email marked-up files
Native support for DWG, DXF, DWF, PDF, 3D PDF (U3D), plus more than a dozen other common AEC file formats including TCW, 2CD, 3DM, 3DS, ASAT, CGM, DCD, DGN, EPS, FCW, IGS, OBJ, PLT, SAT, SKP, STEP, STL, STP, and WRZ
Support for 15 languages:  Chinese (simplified), Czech, Danish, Dutch, English, French, German, Italian, Japanese, Norwegian, Polish, Russian, Spanish, Swedish, and Turkish
TurboReview v1 for iPad is now selling in the Apple App Store for an inductor price of $34.99.
Our take
In April when TechSoft 3D showed off prototype technology for 3D PDF on an iPad, IMSI/Design's Bob Meyer was in the front row. It is no surprise they are the first ones to market with a 3D PDF viewer; working closely with technology partners has become normal operating procedure for the retail CAD vendor. Its close relationship with the Open Design Alliance allowed it to be first to market with a 3D DWG viewer for iPad, even before Autodesk released such a technology.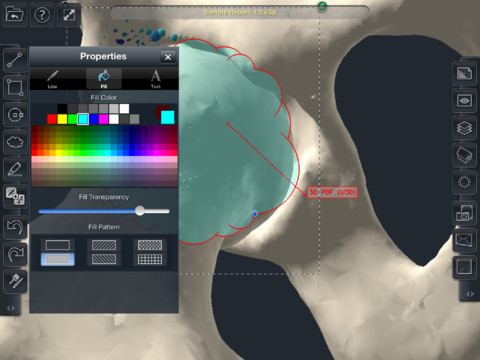 Related
IMSI/Design releases first 2D/3D DWG viewing app on Android
IMSI/Design to release TurboViewer SDK