Moore's Law and new graphics preferences make the all-in-one price competitive with traditional workstations.
By Jon Peddie
HP has revamped the Z1—their ground-breaking machine that was the first all-in-one workstation. So now, six or so years later, HP has been able to engineer some of the cost and weight out of the machine and refine the design to meet the requirements of creative professionals. Now, choosing an all-in-one no longer requires factoring in the higher cost of the Z1's convenient design.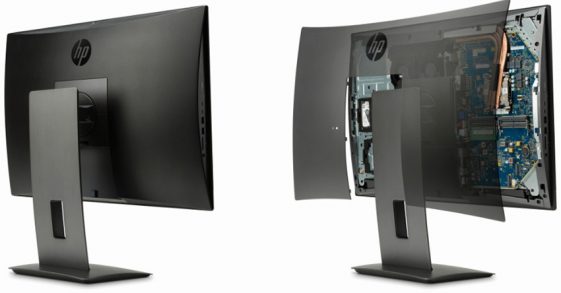 At NAB 2016 HP introduced its third generation of the HP Z1 workstation, which combines the simplicity of an all-in-one design with performance typically found in traditional towers. The new smaller, thinner, and lighter form factor delivers screaming performance at a great value:
47% smaller, 51% lighter, and 21% less expensive than the previous generation

23.6-inch diagonal anti-glare UHD 4K display for visual clarity when working on graphics-intensive projects

Intel Xeon processor options for powerful workstation-class processing technology for demanding applications.
One of the most significant design changes for HP was going from a 28-inch display to a 24-inch. What may seem surprising on the face of it—wouldn't engineers want bigger screens?—turns out to be more straightforward. HP finds that their customers are likely to use a dual-monitor setup, and as a result, they prefer two 24-inch displays side by side to a larger display. They may go for a 4K and an HD, but they are gravitating to two displays. According to Jeff Wood, who is now vice president and general manager at HP, 4K is also seeing good uptake on the all-in-ones.
HP's all-in-one workstations are shipping with Intel Xeon E3 and Nvidia discrete graphics, primarily the M3000. Customers may also opt for integrated Intel graphics, but that's not the sort of choice NAB attendees would make.
The move from 28-inch to 24-inch, as well as the economies of scale from Moore's Law, has served to equalize the prices of HP's workstation line. The new Z1 is priced at $1,499, a 50% decrease from its introductory price. So now, the snazzy Z1 is priced the same as HPs Z240 tower with a 24-inch monitor. "There's no price premium for the Z1," says Wood. The new Z1s are 47% smaller, 51% lighter, and 21% less expensive, says HP. A nice-to-have feature is the addition of Bang and Olufsen sound to the entire line.
HP has seen more customers opt for the Z1, and, says Wood, they're seeing Apple customers defect from the Mac Pro to HP's Z1 and its mobile workstations.
It isn't easy, admits Wood. "It's a religion." For those of the Apple faithful that HP is unable to convert, HP offers the HP RGS (Remote Graphics Software) receiver for Mac. Using the RGS receiver, Mac users can stay on their machines but access the workstation power of a Windows or Linux machine, allowing joint development, interactive editing, and design reviews. They can also access Windows or Linux-based applications on remote workstations, view graphics content, or just beef up their workflow by connecting to an HP Z840 workstation. With up to 16 processing cores and up to 512 GB of DDR3 memory and Quadro graphics, that makes for quite an upgrade to a Mac Pro or Macbook.