An architectural software leader in Asia but not in North America, Budapest-based Graphisoft assembles the press to introduce its technology to a wider audience.
By Ralph Grabowski
Graphisoft is a small CAD company from a small country, Hungary. This is a curse and a blessing. The curse is that the company does not get as much attention as it should for being an early innovator in a class of software now called "BIM" (building information modeling), the architectural equivalent to a parametric MCAD system like Pro/Engineer. The blessing is that to survive, it learned to listen to the needs of other cultures and standards.
Today, Graphisoft is part of Nemetschek, a financial holding company in Germany that also owns Allplan and Vectorworks. Even though all three do the same thing (architectural design), each subsidiary is permitted to operate independently, in the way SolidWorks used to be able to as part of Dassault Systemes. Allplan is most popular in Germany, while the primary markets for Vectorworks are USA and Japan.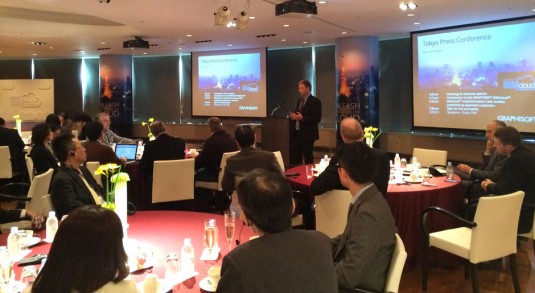 The problem BIMcloud solves
The MCAD industry made the leap from desktop orientation to enterprise mode a long time ago; the same is not true for architectural software. Part of the problem is that 3D architectural models are horrifically more complex than mechanical models and involve many more contractors working in different disciplines.
And so the problem that Graphisoft and Autodesk are tackling is how to get their ArchiCAD and Revit software to work on mammoth projects with designers and contractors in multiple offices spread over time zones. The core scenario is this: two designers in different offices work on the same 3D model. The problems are these: how to reconcile the changes made by the two; how to transmit the data generated by the changes between the offices, near-instantly, when building model files can approach 2GB.
Graphisoft's solution is to transmit only the changed portions of an ArchiCAD model, and reconcile the differences nearly immediately. Autodesk's approach is to greatly compress Revit files for transmission, and then reconcile the differences at the end of the day. Graphisoft considers its approach superior, and so invited nearly 60 CAD media from Japan, Korea, Europe, and North America to the launch of its new BIMcloud service in Tokyo recently.
At the launch, Graphisoft told us it has been working for the last five years on making ArchiCAD enterprise-friendly. It did this through several behind-the-scenes changes:
ArchiCAD gained support for multi-core and background processing;
BIM Server allows two or more designers access to work on one master model at the same time;
BIMcloud lets two or more offices work on a master model, with additional computing resources allocated nearly transparently, as needed, through nearly any cloud host, such as Amazon (convenient for small offices) or in-house (as preferred by large customers).
This year's addition of BIMcloud completes the enterprise-ation of ArchiCAD. Now, a design firm that uses ArchiCAD can range from a single architect, to multi-office behemoths, such as one we visited in Tokyo that employs 1,200 architects plus 1,300 support staff in nearly a dozen offices across Asia.
The key to BIM Server and BIMcloud working well is per-element locking and updating. This is such a key advantage that Graphisoft has patented the technique. It means that when designers work on a model, they lock out only the element on which they are working, whether a single wall segment or a zone consisting of several rooms — not the entire model. All the rest of the model is available for editing by any other designer.
(BIMcloud includes a messaging system so that designers can communicate with each other by text or video, such as asking another to release a locked element.)
Per-element updating means that the amount of data being transmitted over the Internet between offices is minimal, in the order of kilobytes—not mega- or gigabytes. This equates to updates being sent quickly and made frequently, even from computers or tablets hooked up to a cell phone.
BIMcloud works with BIM Server. A BIM Server is located in each office serving files to ArchiCAD running on desktop computers, while BIMcloud connects BIM Servers between offices. Because the design work is done with regular desktop software, no persistent Internet connection is required. For viewing drawings in client offices or in the field, Graphisoft offers BIMx for Android and iOS devices like iPads.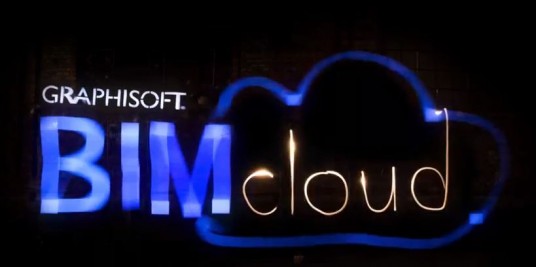 What do we think?
Graphisoft is frustrated by the lack of mindshare they have in North America. It's a big market, but not for them. And so to get noticed, they put on a humdinger of a press launch, flying CAD media to Tokyo. Why Japan? This is a country where four of the five biggest architectural firms use ArchiCAD. (The fifth employs Revit.)
It didn't help the cause, however. BIMcloud is not a simple story to tell the media. The IT aspects of cloud-networked file management is not something on which we are comfortable reporting; our backgrounds are in engineering and architecture, not computer science, and we suspect the same may hold true for architecture and engineering principals. And so Graphisoft executives spent a patient three hours answering all our questions.
Another failing is that the "ArchiCAD" name pigeon-holes the software for architectural design. It is not well known that Nemetschek also owns ancillary software, such as respectable rendering (Maxon) and structure analysis packages (Scia). The company does not market them organically – a disadvantage of Nemetschek's hands-off management policy of the subsidiaries. (By contrast, Autodesk merges all its software in multiple suites and then markets the heck out of the lot.) Perhaps this silo'ing will change, as the company's reformed management board consists of the CEOs of Allplan, Graphisoft, and Vectorworks.
Nevertheless, Graphisoft is confident it can at least capture the rest of Asia through the domino effect. Small architecture firms in Japan take their cue from the large ones (who are dominated by ArchiCAD), and the rest of Asia takes its technology cues from Japan, a country known for testing new stuff carefully before adopting it.
More information: http://www.graphisoft.com