The first commercial version comes after nine months of beta testing.
Today Autodesk announces the commercial availability of Inventor HSM, an integrated CAM solution for Inventor users. Inventor HSM 2015 helps machinists, designers, and engineers turn Inventor designs into manufacturable parts by generating machining toolpaths directly inside Inventor.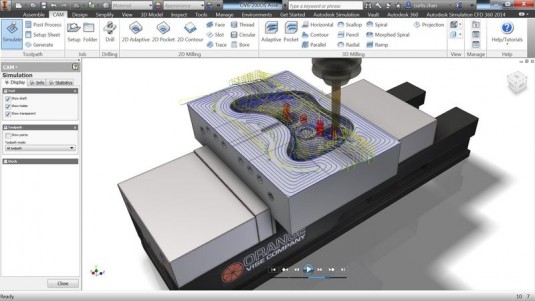 Inventor HSM 2015 includes a full license of Inventor 2015 software.
Originally announced July 2013 and released in limited beta as Inventor HSM Express, the commercial version of Inventor HSM includes:
Flexible 2.5D, 3D, and 3+2 toolpath options and settings for surface finish
Simulation tools that help users verify the machining process before CNC programs are run on a machine
Customizable post-processors and a CNC editor that enable users to tailor their programs to their CNC machine.
Inventor HSM 2015 is available as a stand-alone product as well as desktop subscription. For more details about licensing and pricing options, visit http://cam.autodesk.com/pricing.