WebGL and HTLM5 opened the door to using 3D CAD models in a browser; these start-ups are now delivering a browser-based challenge to the established order.
Until recently, if you wanted to create and interact with a three-dimensional model of a physical object, you had to either buy or download a CAD product. From the free and popular SketchUp to the famous—and famously expensive—Catia, an entire industry has grown along with the computer revolution to deliver 3D modeling and viewing ability to engineers, architects, product designers and enthusiasts. The simplest of these programs run on a consumer-class PC; the brawniest requires the best workstations on the market.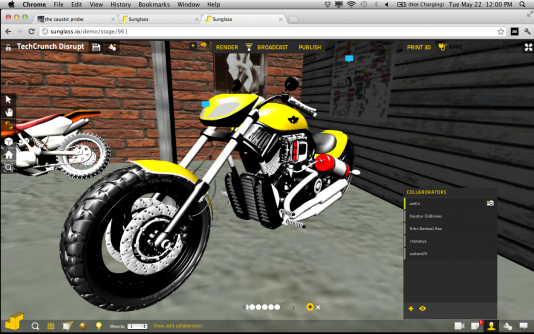 Several young CAD companies, one which won't be out of private beta until next week, are delivering a significant challenge to the established order in 3D CAD. They are delivering 3D CAD tools without delivering a software product to the desktop or tablet; instead they deliver a browser-based experience, no supporting download required. To use a hot Silicon Valley buzzword, an industry pivot is happening right under our noses.
"Pivot" as a business term was popularized recently in the book "The Lean Startup" by Eric Reis. It refers to changing a fundamental aspect of the business model by making a drastic change in strategy without changing the vision. Reis noted that many of the successful startups in recent years went through such a change before finding their success.
The 3D CAD industry's vision is for 3D to become ubiquitous. In recent years Dassault Systèmes has made the most noise about "3D for all," and the overall goal is shared by all players. Today's start-ups in 3D CAD have the same vision of  3D becoming commonplace, but the strategy they follow has made a sharp pivot away from delivering a software product. The new kids on the block are skipping the deliverable and putting the experience of using and working in 3D inside the browser.
WebGL and HTML5 are the two ingredients of the secret sauce making this pivot possible. HTML5 is the current generation Web programming language; WebGL is an application programming interface (API) for rendering interactive 3D graphics and requires HTML5. The current versions of most browsers—with the notable exception of Microsoft Internet Explorer—support both HTML5 and WebGL. Both are open source, standards-based, and guarded by consortiums.
The key players
Here, in no particular order, are some of the Young Turks leading the browser-based CAD revolution:
GrabCAD: Until this week the online engineering community GrabCAD would not have made the list. But the Estonian start-up with significant venture capital funding has just added a browser-based 3D viewer to its list of community features. Members can upload an STL (stereolithographic) file (something all 3D CAD programs can generate) which can then be viewed, rotated and pinned (for adding notes); the website is also converting existing models to add an STL version. GrabCAD provides a home for mechanical engineers to share models, build portfolios, and seek projects or employment. It has more than 200,000 members and over 40,000 CAD models. They recently passed the 4 million download mark.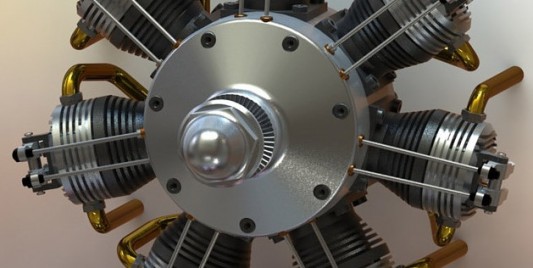 Sunglass is a new browser-based collaboration tool for 3D design; it is scheduled to end a private beta and go public next week. Sunglass made a big splash last week at the TechCrunch Disrupt conference, when the founders (two recent MIT graduates) announced their intentions to disrupt "the $10 billion computer-aided design industry, a sector long ruled by antiquated and expensive software suites that restrict collective innovation." CAD industry elders might be included to mutter "good luck with that," but these guys are backing up the hubris with some interesting technology. The long-term goal is web-based design, but at launch Sunglass is targeting a very specific pair of pain points, collaboration and interoperability.
Sunglass is one part interactive 3D viewer and mark-up tool, one part social design space, and one part interoperability option. One or several users can share an existing 3D design model; Sunglass supports 45 3D CAD formats. Once on the Sunglass "stage" a model (part or assembly) can be reviewed in real time by one user or several, or participants can leave markups and comments when it is convenient, or render a view. "We don't want to enter the market as one more modeling tool," CEO and co-founder Kaustuv DeBiswas told GraphicSpeak. "We are a collaboration platform where many can work." Adds co-founder Nitin Rao, "We are Google Docs for 3D."
Sunglass co-founder Nitin Rao at TechCrunch Disrupt NYC 2012. (Source: TechCrunch)
TinkerCAD:  Kai Bachman bought a 3D printer in 2002 but got frustrated when he tried various 3D CAD programs to drive it. They were either too hard to use and required frequent use to stay sharp, or they were too simplistic to create the realistic solid models Bachman envisioned. In 2010 he pitched the idea for a Web-based 3D modeler and gathered $1 million in venture capital. The target market is Makers, the new enthusiast/hobbyist market snapping up inexpensive 3D printers.
TinkerCAD is working closely with the 3D printing vendors, to make sure their product is both easy to use and suitable for creating designs that easily print out. "We are very different from traditional CAD packages," Bachman told GraphicSpeak. "What works for them won't work for us. We must teach our users about how to design in 3D; most have no formal design background." When a new user visits TinkerCAD for the first time, they are invited to work through a series of short interactive tutorials that teach such basic concepts as moving an object in 3D space and creating an object from using primitives.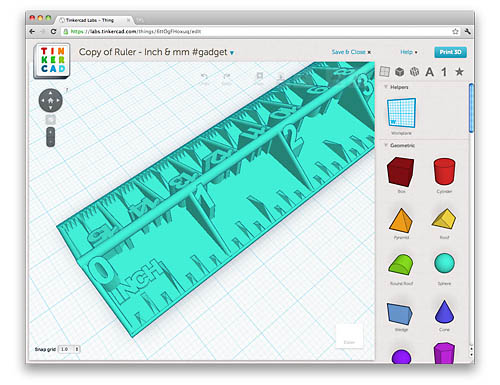 Of the three, right now only TinkerCAD can be used to create models from scratch. Sunglass says creating new models is part of the long-term plan, while GrabCAD is remaining coy; as the only one of the three that has working relationships with existing 3D CAD vendors, it will probably add downstream features for working with models before adding creative tools.
A history lesson
The key companies in the 3D CAD pivot are targeting distinct audiences, with varying overlap to the markets owned by existing players. It would be easy for an Autodesk or a PTC to argue these new players are not a threat—but to say so misses the point. A new platform is coming of age; if there is anything to be learned from the history of the computer revolution, it is that when a new platform is established all technologies on older platforms become endangered species.