The non-compete clauses are out of the way, so some of the original SolidWorks team are reuniting to see what new things might be possible in product development technology.  Can lightning strike twice?
Some of the founders of SolidWorks are reuniting to explore what new solution for product development they might create. The team includes initial founder Jon Hirschtick and early CEO John McEleney.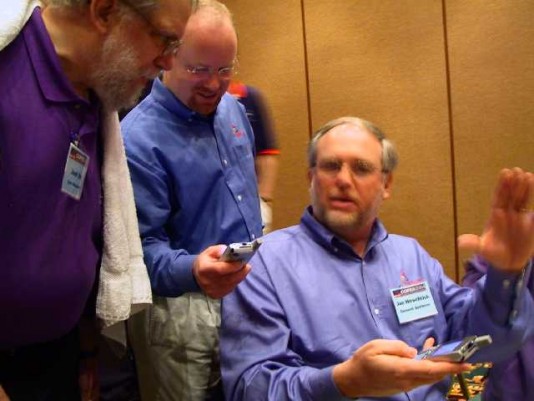 McEleney let the cat out of the bag last Thursday when he wrote a few emails and made a few calls to members of the CAD press and analyst corps. His first call went to Ray Kurland, a consultant, blogger, and analyst whose resume includes stops at Bell Labs, IBM, and Dassault Systèmes, the company that acquired SolidWorks in 1997. McEleney told Kurland that he, Hirschtick, Dave Corcoran, Scott Harris, and Heung-Wing "Tommy" Li have formed a company called Belmont Technology, Inc. The group has rented space in an office building in Belmont, Massachusetts. When Hirschtick started what became SolidWorks, the original name of the company was Winchester Designs, and the first office was in Winchester, Mass.
The plan is to explore what new tools and technologies might be developed today for designers and engineers. As Scott Harris told Roopinder Tara of CAD Insider, "Not a line of code has been written yet." In a note to this reporter, McEleney said the new team "would love to share more, but there is not much to share as we are literally getting started."
Some titles have already been divvied up among the team. Hirschtick is chairman of the board; Corcoran is VP of Research and Development; McEleney is CEO; Harris is "co-founder and vice president."
Another hunch?
SolidWorks was based on a well-informed hunch by Hirschtick that CAD for product design was ready for a new product based on a new operating system called Microsoft Windows. That hunch, combined with a team that worked well together—created what has become one of the success stories of the CAD industry.
Hirschtick jumped in at just the right moment. Windows had yet to prove itself, but the combination of a graphics-based operating system and 3D solids modeling software that undercut the competition by thousands proved to be a hit. SolidWorks had only sold a few thousand copies when Dassault Systèmes bet big—$310 million big—to protect Catia by buying the mainstream 3D CAD leader.
Today the technology landscape is much richer than it was in the 1990s, but we could well be at a moment in time when another well-informed hunch could create a hit. Windows 8 is bringing gesture controls to the desktop; the Web offers a new source of computational ability, collaborative reach,  and infinite storage. Frustration is rising with the limitations and perceived confining nature of history-based design. Scanning is becoming affordable to the larger market of product designers, making the ability to work with voxels an important consideration. Existing products are adjusting to these changes with bolt-on solutions; it is a great time for someone to start with a clean slate.