Scan-to-model bundle is pitched at design and manufacturing engineers, designers, and quality control.
The Geomagic division of 3D Systems is launching a new line of 3D scanners and related software for professional scan-based design and quality inspection on the desktop. Geomagic Capture comes in six configurations based on the design software to be used with the scanner. Each configuration includes a compact blue light LED scanner integrated with the bundled software.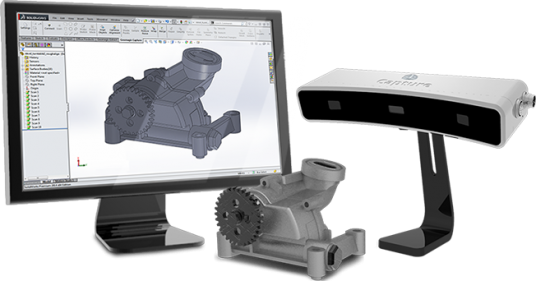 3D Systems says Geomagic Capture can compress design time when starting from an existing physical model, by allowing the scan to go more directly to design software than has traditionally been possible. Capture extends the scan-to-model productivity Geomagic released last year as Geomagic Spark—since renamed as Geomagic Design Direct.  3D Systems is not pitching this as a maker-level, consumer-grade product but as a professional design system. Prices range from $14,900 to $24,900; 3D Systems calls them "the most affordable in their class."
Two of the six configurations (Capture for SolidWorks, Capture for SpaceClaim) include plugins that work with the named software. The other four versions are:
Geomagic Capture for Design X, for transferring models to Siemens NX, PTC Creo, Autodesk Inventor, or Dassault Systèmes SolidWorks;
Geomagic Capture for Design Direct, which includes integrated CAD tools;
Geomagic Capture for Control and Geomagic Capture for Verify work with existing Geomagic software products.
3D Systems says the scanner has been "heavily tested" for accuracy and is rated at 60 microns for near field capture (up to 0.3 meters) and 118 microns at the far end of the field (about 0.5 meters). The scanner captures geometry only, not color. It does not require targets to be placed on the physical model. Each Capture bundle includes the software, a desktop tripod, a power cable, a data cable, and an Ethernet converter for PC connection. The software will also work with other scanners.
Our take
The price/performance curve for scanning in mechanical design keeps bending in the right direction for wider adoption. In 2012 3D Systems CEO Avi Reichental said the company was launching a fifth growth initiative, the creation of a comprehensive digital design/scan/print platform; Geomagic Capture is part of this initiative. Even though 3D Systems acquired three software and hardware systems (Geomagic, Rapidform, and Sensable) to put this fifth initiative together, there is still plenty of competition to drive innovation and lower prices from Creaform, Hexagon, and Renishaw, among others.