Matrox makes display boards capable of supporting eight or more monitors, but hasn't been a player in consumer or general-purpose enterprise computing for years. Working with AMD could turn that around. 
Matrox Graphics today announced its next generation of multi-display graphics cards will be based on AMD GPUs and display drivers. The shift from internally developed graphics means Matrox will continue to improve its special approach to display technology while leaving the heavy lifting of modern 3D graphics to AMD.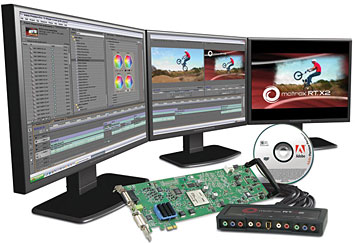 For years Matrox has owned the narrow niche market for multi-display graphic cards, for such special use cases as financial trading and computer-driven signage. But it hasn't released a general-purpose 3D graphics card since 2009.
The soon-to-be-launched product line will enable features for enterprise, industrial, pro A/V, digital signage, security, command and control, and other professional applications. The new line will continue to use Matrox PowerDesk desktop management software; Matrox and AMD are working to integrate the two technologies for Matrox products.
The new Matrox line will use AMD's Graphics Core Next (GCN) GPU. "Our enterprise and industrial customers will continue to benefit from Matrox multi-display board designs, easy-to-use PowerDesk software, direct customer support and long product life cycles," says David Chiappini, vice president of research and development, Matrox Graphics.
Key features of the selected AMD GPU include 28nm technology with 1.5 billion transistors; DirectX 11.2, OpenGL 4.4 and OpenCL 2.0 compatibility; shader model 5.0; PCI Express 3.0 and 128-bit memory interface.
What do we think? 
This is a coup for AMD. Matrox has been out of the running for the larger consumer and professional graphics markets for years, but has continued to make a nice living from its multi-monitor display technology, which is primarily 2D. Letting AMD provide the 3D graphics lets Matrox concentrate on what it does best. Having one more vendor spec'ing its GPU technology is great for AMD; this could wind up selling more AMD GPUs than the recent deal with Apple for the high-end Mac Pro.