The new ThinkStation update takes toolless to a new level.
Lenovo came to Siggraph with a fleet of slick-looking new workstations. The company completely revamped their product line with new processors, new cooling techniques, and new cabinets.
Lenovo has added new models to its ThinkStation P Series workstation lineup featuring Intel's Haswell Xeon E5 v3 processors. Lenovo says the new machines are designed for optimum performance, reliability, and usability. The new models offer flexible configuration and have features to ease maintenance tasks.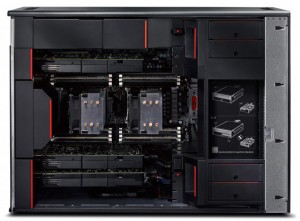 Set to be available later in the fall, the new models comprise the ThinkStation P900, P700, and P500 and join the entry-level ThinkStation P300 announced earlier this year. All are traditional tower format chassis designs based on Intel's Xeon E5-2600 v3 and E5-1600 v3 processors.
The ThinkStation P900 is the high-end system and is a two-socket design that can be configured with up to 16 memory modules along with the ThinkStation P700. The ThinkStation P500 is a single-socket design that can fit eight memory modules.
Additionally, the new models feature the latest Nvidia Quadro AIBs, and the ThinkStation P900 supports up to three Quadro K6000 AIBs. Rob Herman, Lenovo's director of worldwide workstation product marketing, said at the JPR Siggraph press briefing, "The P500 replaces the Lenovo S30 workstation, the P700 replaces the C30, and the P900 'surpasses' the previous D30 as Lenovo's high-end desktop workstation."
Flexibility
The ThinkStation P Series systems all feature a clean, modular design, making maintenance tasks easier, as well as a chassis designed for flexible configuration. This includes tool-free access to critical components, even the motherboard, with red touch points to guide the user's hands when removing components.
The system is built around Lenovo's Flex system of trays and connectors. The Flex Bay at the front of the system can be configured with an optical drive or a variety of IO options (including media card readers or a FireWire connection). Drives are installed using Flex Trays that support both 2.5-inch and 3.5-inch drives. (Each tray can be used to mount two 2.5-inch drives, meaning the P900 can be configured with as many as 14 hard drives.) Finally, the Flex Connector is a mezzanine card that connects to the motherboard, providing two PCIe-based connections for SATA, SAS, or PCIe storage or RAID without taking up PCIe slots.
Herman stressed the "tri-channel" architecture of its systems, with what he described as a "passive, bifurcated air baffle" that's engineered to help draw cool air to the CPU while warm air is pushed out vents in the back of the case.
At the JPR Siggraph luncheon, Victor Rios, Lenovo vice president and general manager for workstations, said, "After a period of intensive research, development, and testing, we're excited to introduce our next-generation workstations to the market, as we truly believe this is the best designed workstation ever."
One unusual feature is a diagnostic port, which allows a user or administrator to connect an Android-based tablet or smartphone to the USB port for system analysis using a dedicated ThinkStation app.
For choice of configuration, the ThinkStation P Series have a Flex Bay that can fit an ultra-slim optical drive, a media card reader, or FireWire (IEEE 1394), while a newly designed Flex Tray for hard drives supports both 2.5-inch and 3.5-inch hard drives, with one tray supporting up to two 2.5-inch drives.
Lenovo said the new systems have been certified by key vendors of professional software for CAD and other high-end applications. Pricing for the new systems has yet to be disclosed. Lenovo's continues to advance in the workstation market, claiming its share of the worldwide desktop market has improved from 2.4% in 2008 to an estimated 11.3% in the second quarter of 2014, and the company claims to have 30% of the workstation market in China.