GTeam could be the web-based project tool the industry wanted 15 years ago.  Searching clash reports by time is only one of the novel things it can do.
Gehry Technologies today announced a new cloud-based project collaboration platform, GTeam. Available for free testing through October, GTeam is one part AEC 3D viewing, one part social media collaboration, one part secure project data storage, and one part digital asset management. This could be the product the construction industry thought it wanted 15 years ago when project extranets like Autodesk Buzzsaw first came on the scene.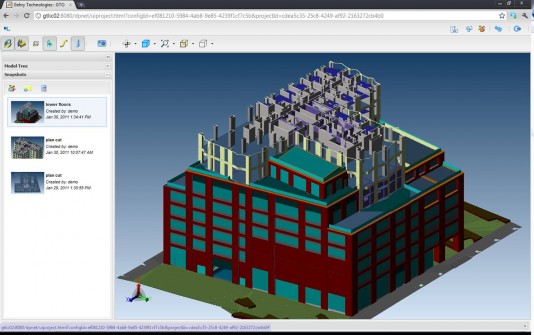 GTeam is built to allow construction project teams—including architects, designers, engineers, contractors, consultants, and building owners—to collaborate and share documents, files, and 3D building information data from any device with a web browser. Gehry believes project teams will use GTeam to reach consensus faster, reduce change orders, save time, and reduce project costs.
Gehry is also targeting owner/operators with GTeam, saying it can operate as a centralized BIM data storage platform to identify, consolidate, and organize as-built documents of all existing and future buildings.
Key features include:
Web-based access: GTeam supports 3D model viewing from any web browser on any device, including tablets and smartphones. Once a model is on GTeam, no collaborating user needs the original authoring program.
Neutral 3D: GTeam can read in models from a variety of popular 3D programs including Revit, Rhino, SketchUp, AutoCAD, and MicroStation. Internally GT uses a neutral 3D format to display models, using boundary representation data (B-Rep), which Gehry says makes it easier for them to generate models useful for precise measurements while remaining fast to load and view.
3D-based activities: Users can view and compare multiple models, create measurements, perform clash detection and clearing checking, annotate models, share snapshot views, create custom reports on BIM data, and use 3D sectioning to focus on key areas.
All product data: GTeam supports the use of most file types popular in construction, including spreadsheets, email, reports, 2D drawings, PDF files, schedules, photos, and videos. The File Set feature creates logical groupings of files. A full list is available at GTeam's support site, in an FAQ document.
Audit history: GTeam records changes to project data over time, making it possible to track changes over time.
File synchronization: GTeam connects to the original of every file uploaded, and stays synchronized to make sure the latest version is always in use.
Social media: GTeam includes centralized messaging and commenting, allowing team members to discuss things privately, in small groups, or to the entire project team.
Security: Administrative controls and individual controls provide multiple layers of security. Administrators can assign role-based access designed around typical AEC tasks.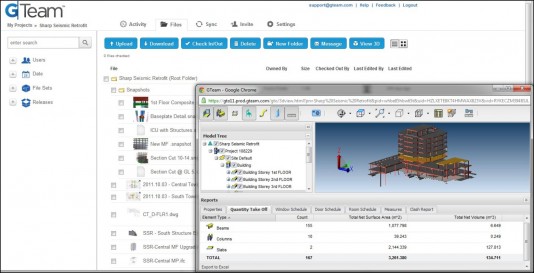 GTeam has two major layers. The bottom layer is file management, where 3D files are converted and all other file types integrated for collaboration. The top layer is an application programming interface (API) for connecting GTeam to other systems such as project management tools.
In demonstrating GTeam to GraphicSpeak, Gehry Technologies Director of Research Andrew Witt said the GTeam platform makes it possible for any participant to run studies on the project data, such as clash detection on a certain day. Having access to the social history of the project, Witt says, "frees up people to do content-based applications without worrying about the underlying formats."
"We are building a platform with GTeam," Witt says, "not another SharePoint or other file-sharing tool. We think it is an advanced 3D digital asset management platform. We are packing up all our experience into this product."
Is construction ready for GTeam?
Gehry Technologies was founded in 2004 as a way to turn the use of Dassault Systèmes Catia by Gehry's architectural firm into a business. The resulting product, Digital Project, has enjoyed modest sales over the years. But the primary engine of growth for Gehry Technologies has been its consulting arm, providing advice and services for some of the world's most high-profile construction projects. "We've become a Delta Force for construction," is how CEO Dayne Myers describes today's GT. "We have built a fascinating consulting practice."
GTeam is the first product release since Gehry Technology (GT) received $10 million in funding from several investors led by Autodesk, with whom GT also inked a "strategic partnership" deal. (See "Autodesk buys into Frank Gehry's Catia-powered think tank") The technology in GTeam has its roots not so much in Digital Project as in the way GT used Digital Project to become a service provider on some of the world's largest and most complicated construction projects in recent years.
The technology promises much, but so have previous generations of web tools for construction, as well as other products competing for construction collaboration business, such as Newforma, Oracle Primavera, Meridian Systems Prolog, and Bentley's large product line based on ProjectWise. What these other companies have that Gehry Technologies lacks is a large and experienced sales force.  GT has great word of mouth from marquee architectural firms, but that might not be enough to move the needle in the highly competitive and stingy world of construction technology.