The mobile BIM viewer will be added to Gehry's new project management platform.
Gehry Technologies (GT) has acquired Bimshare, a Dutch vendor of data-sharing technology for building information modeling (BIM). The acquired software will be added to the recently released GTeam AEC project management platform GT announced last week. (See "Gehry Technologies releases cloud-based AEC project collaboration platform.")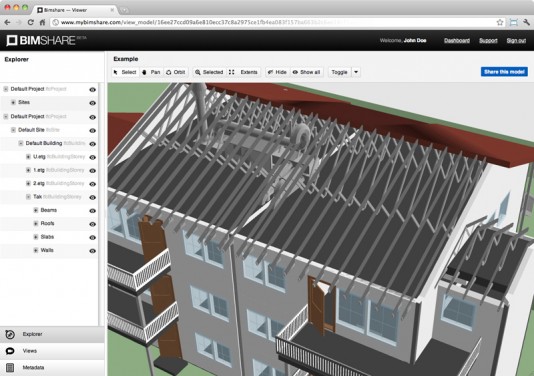 GT is meant to be an all-encompassing project collaboration platform, but at its launch company executives were quick to say it is still a work in progress. Bimshare gives GT a quick route into the fast-growing mobile space. Like GTeam, Bimshare is cloud-based, providing users not only model sharing and collaboration tools, but a secure place to store models and other project data. Because Bimshare operates inside a web browser, it offers a quick (zero-install) way to upload and share 3D models online through browsers on desktop or mobile devices. Bimshare has been focusing on mobile access; GT can now use this technology to expand GT.
International structural engineering and architectural design firm Arup is an existing Bimshare user and an early tester of GTeam. "The Bimshare technology has been very easy for us to adopt and use on a variety of projects involving 3D models," says Jeroen Coenders, Associate at Arup, "We're excited about this acquisition and look forward to deploying the joint GTeam – Bimshare solution."
"This acquisition provides us with the technology and people to build out this vision of accessing anywhere on any device," a company spokesperson told GraphicSpeak. "The technology is a huge piece of the acquisition and will allow us to broaden GTeam's reach more rapidly." GT also says the deal will extend its international presence and strengthen its web development expertise in WebGL and HTML5.