Nuke users can now do all their virtual reality post-production work in one place.
The Foundry has moved its new toolset for virtual reality from beta to the marketplace. Cara VR is a plug-in to Nuke, The Foundry's popular post-production visual software.
Cara VR adds a new set of tools to Nuke's existing native support for the compositing of multi-camera live-action footage, enabling artists to create seamless immersive experiences with 360° video content. Cara is optimized for use with GPUs.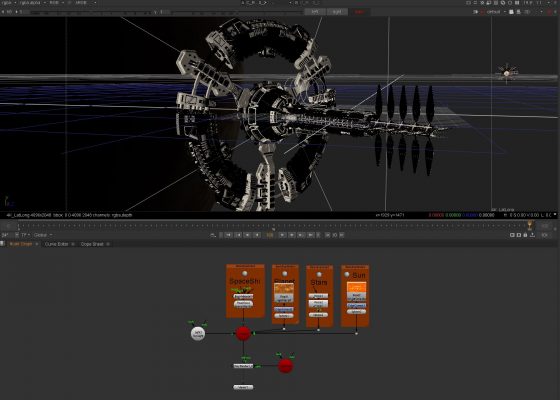 Cara VR is designed to help artists streamline four main areas:
Camera solving and stitching: Solve the physical layout of the cameras in multi-camera rigs, calculate their focal length and lens distortion, and use depth-dependent warping to merge the multiple video sequences into an uninterrupted 360° view.
Plate corrections: Match exposure and color balance between cameras, stabilize footage to remove horizon roll that can cause motion sickness, and manually correct stitches to create a seamless immersive experience.
Compositing: Work in a spherical image space, including tracking, paint for rig removal, and ray-trace rendering to place virtual elements into the real-world environment.
Headset reviewing: An integrated live review process for the Oculus Rift headset enables artists to evaluate their work in the context of the end viewing platform directly from within Nuke, including timeline playback in Nuke Studio.
Justin Johnson, head of 2D at Luma Pictures, testing Cara VR during the beta period. "Without Cara VR we would not have been able to finish a stitching job that was a nightmare," he says.
Cara VR is available to current Nuke users as a purchased add-on.  
What do we think?
Without great immersive video, an Oculus Rift becomes an expensive sleep mask. Content will make or break the virtual reality industry. The Foundry is leading the pack in bringing a dedicated post-production tool to market, but they certainly won't be the last.