One early tester of the patent-pending processes says it significantly reduced development costs on an Energy Star-compliant design for a mobile phone charger.
Mentor Graphics Corporation says features in its newest release of FloTHERM 3D computational fluid dynamics (CFD) software for electronics cooling applications are new to the CAE industry.
FloTHERM 3D version 9 includes Bottleneck (Bn) and Shortcut (Sc) fields so that engineers can identify where and why heat flow congestion occurs in the electronic design. The software can also identify thermal shortcuts to quickly and efficiently resolve the design problem.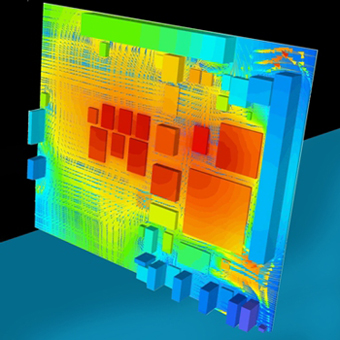 Mentor Graphics says the Bn and the Sc fields "elevate the use of simulation from an observation tool which identifies heat management problems to an effective thermal design problem-solving tool which suggests potential solutions to the designer." There are patents pending on both processes.
FloTHERM user CamSemi was an early tester of the new software. "The value of FloTHERM 9 is in the time and the cost it saved us when developing an IC for a new generation of Energy Star-compliant mobile phone chargers. The baseline simulation using the 'bottleneck' feature quickly highlighted a potential thermal issue, and further iterations confirmed our solution," stated Nigel Heather, vice president of engineering, CamSemi. "To achieve the same result by building prototype boards would have taken a long time and drawn resources away from other critical work. FloTHERM has helped us reduce development costs and kept our project on track to meet our customer's aggressive deadline."
Two additional enhancements have been made in the new FloTHERM v.9 product: XML model and geometry data importing to enable FloTHERM integration into existing data flows, and a direct interface to the Mentor Graphics Expedition PCB design platform. The direct interface enables users to import native Expedition PCB data, and delete or edit additional objects (heatsinks, thermal vias, board cutouts, EM cans) for more accurate thermal model design development.
For more information: http://www.mentor.com/products/mechanical/products/flotherm.