The ambitious goal is to model the world for science and industry, including the hidden parts. Kathleen Maher reports from the Dassault Systèmes 3D Experience Forum in Las Vegas.  
By Kathleen Maher
French Design/PLM vendor Dassault Systèmes is nothing if not ambitious, at the company's 3D Experience Forum this year, they said their goal is to model the world—all of it. The remote parts, the scary parts, the hidden parts. And to prove the point, they put a particu­lar focus on two of their groups, Geovia and Biovia.
In 2012 Dassault acquired Canadi­an mining company Gemcom to build its Geovia division. Mining, of course, is dangerous; the whole point is to get at minerals and ore the earth doesn't really want to give up. Thus, mining is also expensive. In a talk with Rick Moignard, CEO of Dassault's Geovia, and Rick Howes of Dundee Precious Metals, we were told that there are about 3,200 small companies involved in the mining industry. Most of them are far from being early technology adopters. The typical problems they're struggling with are the inability to ac­tually see the deposits they're going for in a mine, and then to devise a practical strategy to get the ore out. Then, there's the obvious issue of safety. When min­ing is expensive, safety becomes more of a variable than a requirement. Fur­ther, humans have plundered much of the easy-to-find, easy-to-get treasures. So new methods are required. Demand is up, supply is difficult, new technolo­gies are not being used or understood by the established companies. In short, the mining industry absolutely reeks of op­portunity Dassault has responded with the establishment of its Geovia division, but it's not the only innovator in the field. The Swedish company Hexagon has been involved in the market via its metrology tools, Siemens builds machin­ery for mining, extraction, and transpor­tation, and it has MES (manufacturing execution systems) tools that apply to mining. Trimble too has metrology tools for visualization, and machine control, and excavation expertise. In June 2014, Trimble acquired Mining Excavation Systems of Perth, Australia. Clearly, this is a very competitive business.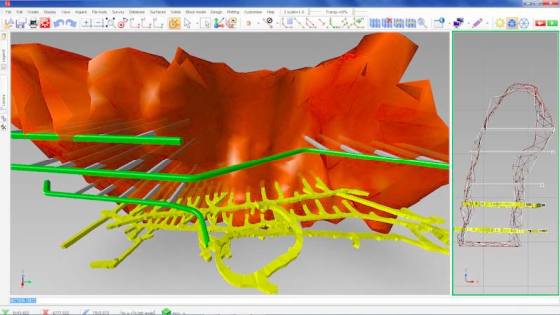 Moignard says that the big attrac­tion for Dassault CEO Bernard Charlès is the potential for making mining more sustainable at the same time it is being made more profitable. And, just as im­portant, it fits into Dassault's ambition to model the world. Moignard says in mining, it's not that there isn't a wealth of information, the challenge is being able to take in the information and understand it. One of the business as­pects that he looks out for are industries where part of the challenge is the sheer scope of the data involved. In his talk at 3Dfx said that he is not so interested in graphics, he's interested in modeling. The challenge for information compa­nies is not so much to get pixels up on a display, but to get meaningful pixels up on a screen.
Obviously, mining was just one area of focus for Dassault's conference, but it provides an interesting counterpoint to Dassault's other new major divi­sion, Biovia, which Dassault is build­ing around its acquisition of Accelrys and work being done in its Simulia group (see "Dassault Systèmes and FDA collaborate on The Living Heart Project,"). Das­sault wants to model the human body, Dassault wants to model the earth; it's all part of the experience, 3D experi­ence, that is.
After years and years of focusing on PLM and the information side of the de­sign/build/manufacture industries, Das­sault has made a major pivot to what it calls 3D Experience and the ability to use digital technologies for meaningful modeling. Responding to its custom­ers' need to build pipelines, Dassault is concentrating on tools to facilitate in­formation flows. Now the industry is turning inside out as companies are be­coming able to use their visual models as the gateway to information. It's not that the tools are so different, it's that they're being used in different ways. Data doesn't drive understanding, visu­alization drives understanding.
Another major shift highlighted at 3Dfx was the company's reorganization around its verticals. This too is not new, but the company focused on it quite a bit during this meeting because much of their product development is coming to fruition around this re-org that was started by Dassault EVP in charge of Corporate Strategy, Industry and Mar­keting, Monica Menghini, about three years ago. The plan, says Menghini, is to break down the silos of information within companies and within Dassault Systèmes itself.
Today, Dassault has 12 verticals: Aerospace and Defense; Transporta­tion and Mobility; Consumer packaged goods and retail; Natural Resources; Industrial Equipment; Architecture, En­gineering, and Construction; Life Sci­ences; Financial and Business Services; Consumer Goods and Retail; Energy Process and Utilities; Marine and Off­shore; and Industrial Equipment. The largest business for Dassault is Trans­portation and Mobility, followed closely by Aerospace and Defense, where Das­sault is an industry leader.
As an example of how Dassault's strategy plays out, one of their more recent acquisitions was RTT, a visual­ization company that primarily serves the automotive industry with interests in consumer products. RTT has been redubbed 3DExcite, and the company's technology will be used in all the ver­ticals to improve visualization. For in­stance, we were told that the consumer goods business is dominated by two disparate market groups, fashion and durable goods. The fashion industry is a bit of a laggard when it comes to tech­nology—the tool used most frequently for design is Adobe Illustrator and not 3D tools. The durable goods business, meaning washing machines, dishwash­ers, that sort of product, is a more typi­cal manufacturing application where Catia and Solidworks are frequently used. In a talk Susan Olivier, vice presi­dent of Consumer Goods and Retail, said the RTT technology is very excit­ing and they're already seeing it being used by Van's. Van's has been able to use the RTT Deltagen technology to dra­matically shorten design cycle, all but eliminating prototypes, and even photo shoots are drastically reduced because they can reproduce physical environ­ments in Deltagen. For instance, they model stores in order to visualize in-store displays for the shoes. This is simi­lar to the technology RTT has been pio­neering for virtual showrooms for cars.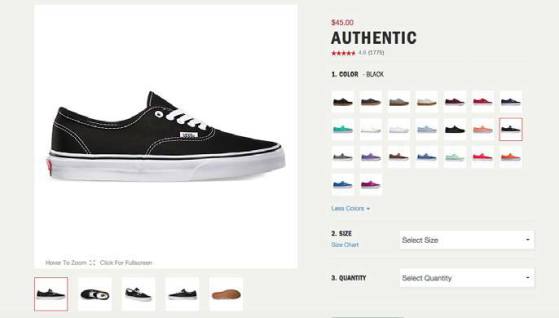 Olivier says the company's acquisi­tions are not about companies, they're about acquiring people. Both Menghini and she and talk about connecting the dots. The problem is, the more dots they connect, the more dots they find. And yet, the world is becoming connected, via networks, phones, politics, disease, and war. Looked at another way, the dots are connecting themselves and the CAD competitors are racing around trying to find the best intersections for themselves.
The Lazarus strategy
Assuming her audience contained a fair amount of product developers and designers, Menghini talked about the wealth of information that surrounds any product idea because, she said, there is almost no such thing as a brand-new product. Rather, she said, companies re-invent products, and in the case of Apple, they have been able to revital­ize products that were almost dead, in a process she calls "the Lazarus strat­egy." It's a process she believes Apple well understands, it's a recipe, she says, and what they're doing is not so much remaking the product but remaking the feeling people have when they use the product—yes, the experience.
As part of that strategy, she says, the people working on a product should know everything there is to know about that product—why people use it, what they want, who they are—and all the team members on a project should not be isolated in silos but rather working together with a shared information base in a collaborative way. Given enough in­formation, she believes, team members can cook up their own recipe for suc­cessful product experiences.
This changes the way Dassault is going to market. "We are no longer in the point solution business," Menghini told the audience, "because you are no longer in the point solution business." In the long run, they hope not to sell more seats of Catia, or Enovia, or any prod­uct, but systems of products. In other words, Dassault is selling its own expe­rience to customers.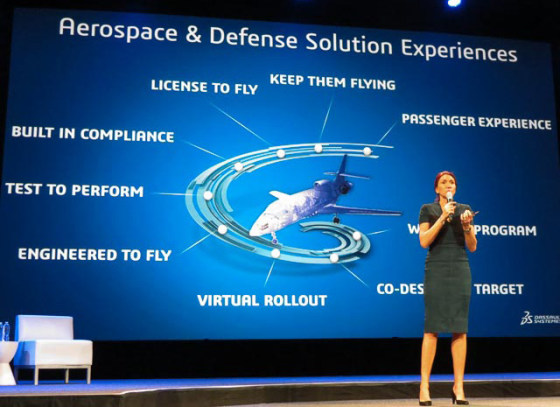 Throughout the conference, Dassault demonstrated possible design, analy­sis, and marketing scenarios in which companies' teams work on a product with the help of dashboards that pro­vide access to all the information they have. For instance, when talking about the aeronautics industry, Menghini said when companies begin a project for a new plane, it's about much more than a new plane, it's about passing regulatory requirements, meeting customer expec­tations, understanding how to service the place, and so on. PLM products have long been able to keep all that data together with the product, but the infor­mation is not always that easy to get to. Today's companies are trying to build better systems to present information in ways people can use it.
This year, Dassault talked a great deal more about how the cloud might figure into their customers' workflows. That's a little bit of a surprise because Dassault has resisted the cloud. The company deals so much with enterprise companies that they assumed the cloud was not a practical option. However, the interest in the cloud is clearly becoming hard to ignore. CEO Charlès said that he still does not believe Dassault's large-enterprise customers are going to opt for cloud workflows in a big way, but he did concede that cloud options make sense for smaller companies. The cloud gives small companies a way to hook into complex product design, manage­ment, distribution, and service work­flows and helps them operate like large companies.
So what's new? What's different?
Dassault's vision for 3D Experience has confused the hell out of observers and customers alike. It has taken a while for the company to coalesce around a description of their vision, possibly be­cause they have tools that fit together and can demonstrate what they really mean.
In addition, Dassault has probably been aided a bit by the efforts of its competitors. Dassault is not the only company in the business of design that is finding its natural evolution is trend­ing toward related markets and a sys­tems approach. What differs are the sys­tems they have decided to take on.
Siemens has also reorganized around its verticals and has a similar approach to development. Bentley Systems also has a dashboard approach that enables everyone involved in a project to see all the information associated with a project including its progress and in­formation from all the people involved. PTC is finding its buoyancy around ser­vice, software, and IoT.
Dassault wants it all. That's not dif­ferent, but the company is setting out to have the ability to handle the biggest data problems. That is consistent with their vision ever since they presented Enovia to the world. Now world indus­tries are looking for ways to handle big data, and Dassault is headed in that di­rection with its visualization tools, giv­ing it a handle to twist, turn, and man­age that data.