Without using the acronym "PLM" Autodesk announces its first competitive displacement since it decided to stop persecuting Product Lifecycle Management.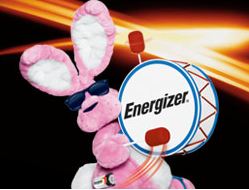 Autodesk today announced that Energizer Holdings, Inc.—the company best known as the brand behind the famous Energizer Bunny—has adopted Autodesk Vault data management software to manage its product design and manufacturing information. In their announcement, Autodesk said, "Energizer is replacing Siemens Teamcenter with Vault for its enterprise data management needs."
The correct name of the company on the losing end is Siemens PLM Software. Autodesk, with a historic dislike of the phrase "product lifecycle management," couldn't even use the acronym to name its competitor.
In a public statement, Autodesk said Energizer Holidings, a multinational company with $4.3 billion in annual sales, will be rolling out Vault to 12 different locations worldwide, "connecting product design, manufacturing planning and production operations."
Energizer is already a user of Autodesk Inventor and other design products in the Autodesk manufacturing line. Energizer's equipment designs start with outlining production systems and specific machine requirements. Energizer engineers then create digital prototypes in Autodesk Inventor, often combining 2D & 3D CAD data with information from suppliers. "The deep integration between Vault and Inventor makes it easy for Energizer to manage its data from engineering through manufacturing—saving time, preserving data accuracy, and reducing costs," said the Autodesk statement.
What we think
Just because a company agrees to be associated with a product displacement announcement, as Energizer has done here with Autodesk, doesn't mean the ousted product is immediately banished. Even if Energizer truly eliminates Teamcenter from its engineering IT, it will take time to make the complete transition. During that transition you can be sure Siemens PLM will be pitching for a continued piece of the business.
Turning high-priced services into commodities is part of the Autodesk DNA; it goes back to the founding of the company and the introduction of AutoCAD in the 1980s. Now Autodesk is determined to bring "democratization" to product lifecycle management—even if it can't utter the phrase in public. This new aggressiveness in PLM from Autodesk, combined with the recent successes open source PLM vendor Aras has achieved with companies like Xerox, adds up to a new marketplace for PLM, one in which entrenched and expensive products from Siemens PLM, Dassault Systemes, PTC, and Oracle will face new challenges.