Built using Teigha technology from the Open Design Alliance, IMSI/Design creates an Autodesk-free zone to view DWG 2D and 3D drawings.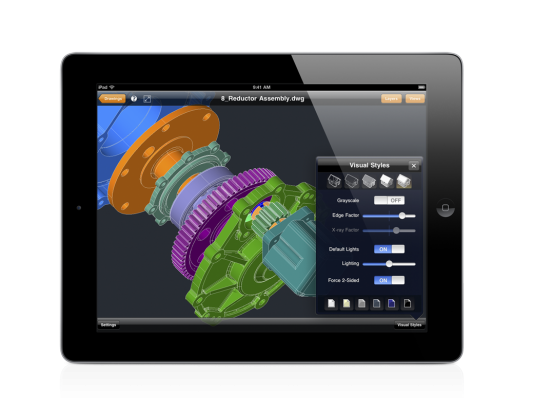 IMSI/Design has released TurboViewer Pro, a professional version of its free TurboViewer app for the iPad and iPhone. IMSI/Design modestly claims the new app is the "fastest and most capable 2D and 3D viewer on the iOS platform."
IMSI/Design publishes several retail-priced CAD and related products, including TurboCAD and DesignCAD. It uses technology from the Open Design Alliance, the consortium that publishes the Teigha library of DWG-compatible technology used by many of Autodesk's competitors. (See also the recent GraphicSpeak article, "The Open Design Alliance Prepares for the future.")
The free version of TurboViewer was the first and only DWG viewer to support both 2D and 3D CAD DWG files for the iOS platform. Files are added to the iOS device by email attachment, Web download, FTP, Dropbox, WebDAV, iCloud, or other cloud-based storage systems.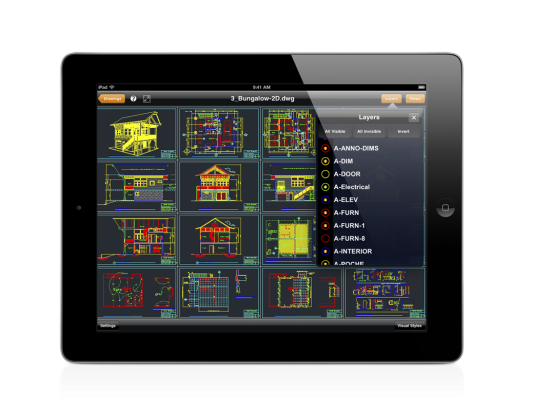 Adding to the features in the free version, TurboViewer Pro includes:
Visual styles that support:

Hidden line
X-ray
Shaded
Shaded with edges
Grayscale mode
Adjust edge color range from white-gray-black
Adjust x-ray transparency factor
Option to use default or model lights (if any in drawing)
Option to render both inside and outside model (force two-sided rendering)

Layer Manager (turn on/off layers, invert layers, turn all layers on/off)
Additional settings (turn on/off 2D/3D auto-sense navigation, option to use two fingers to 3D rotate/tumble or constrain orbit, etc.)
Support for 14 languages: Chinese (simplified), Czech, Danish, Dutch, English, French, German, Japanese, Norwegian, Polish, Russian, Spanish, Swedish, and Turkish
No onscreen advertising
TurboViewer Pro has an introductory price of $9.99 and is available now from the App Store. For more information, visit www.IMSIdesign.com/TurboViewer.