Recent acquisitions have been digested; now Autodesk wants to extend its reach into computer-aided manufacturing's three phases of Plan, Program, Produce.
Autodesk employees used the buzzword "disruptive" more than usual this year at Autodesk University. And they used it to describe their actions in markets heretofore outside their reach, including computer-aided manufacturing (CAM). In a variety of settings Autodesk presented a three-part view of the CAM industry it intends to disrupt.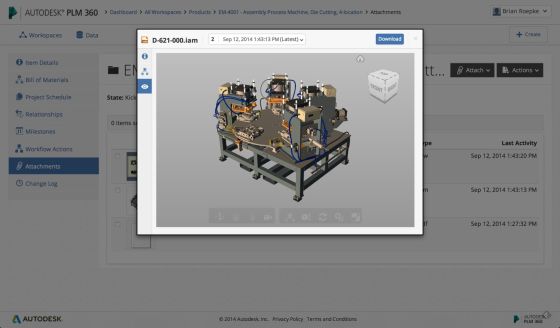 The big vision, Autodesk says, is equipping manufacturers of all sizes with the technology to level the playing field, and help small companies compete on an equal basis with the titans of manufacturing. "In this new era of manufacturing, breakthrough innovation is within reach for the start-up, just like the industry titans," said Diego Tamburini, Manufacturing Industry Strategist at Autodesk. "The democratization of the means of production has leveled the playing field, enabling a new set of players to compete with the incumbents, and – in some instances – even bring innovation to market faster. The design, engineering and manufacturing tools and processes people relied on in the past to be successful are not the same tools they will need in the future."
Plan
The first phase is Plan, one Autodesk already leads. AutoCAD and AutoCAD LT are the leading software tools for factory design layout; Autodesk says its Factory Design Suite (FDS) has been a surprise strong seller from the day it launched. The various versions of FDS include AutoCAD, several AutoCAD-based utilities, and portions of the Navisworks product line for 3D project review and simulation. Most of the AutoCAD-based FDS tools produce a perspective (2.5 D) view of the factory layout, a viewpoint Autodesk says is easy to create and understand.
"We do the plan phase 100%," says Carl White, Senior Director, Manufacturing Engineering Products. "We do lines, arcs, and circles just fine."
Program
The second phase is Program, the act of preparing a design for manufacturing. Autodesk has made three important acquisitions in the past 24 months in this regard:
Market-leading CAM software vendor Delcam, being operated as a wholly owned subsidiary;
Start-up HSMworks, which only had a CAM program for SolidWorks when Autodesk bought it; HSMworks technology has been extended for use with Autodesk's two MCAD products, Inventor and Fusion 360;
Magestic Systems, a specialist in composite and flat fabrication.
Fusion 360 is now positioned as Autodesk's cutting-edge initiative to create a direct modeling approach to MCAD, complementing—and eventually replacing—Autodesk Inventor. By the end of January 2015 Fusion 360 will be available to all Product Design Suite subscribers at no additional charge. In the past, such a move has meant the added product will become part of the shipping suites with the next update. A browser-based version will be available sometime next year.
Finally, Autodesk announced the release of Inventor HSM Pro 2015, which adds support for 5-axis machining to Inventor HSM and includes a powerful CAD upgrade to Inventor Professional 2015.
Inventor HSM Pro will include Autodesk CAM's 5-axis Contour and 5-Axis Swarf strategies, which allow users to benefit from the capabilities of their 5-axis machining centers and reduce setups. Inventor HSM Pro also includes enhancements that aid in working with molds, tools and dies, and simulation and FEA for design validation. Autodesk is targeting Inventor HSM Pro at small shops who want a single product to handle both design and manufacturing.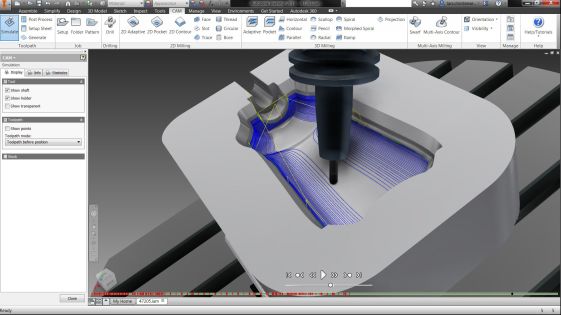 Produce
The third phase is Produce, the automation of fabrication of parts from flat metal and composites. It is an area Autodesk sees as fragmented and worth an investment of time and money. There is little standardization in software for controlling such devices as waterjet, laser, and oxygen cutters. "This is the most broken" element in CAM says White.  "We will use our own technology" to develop new products in this year, rather than acquire it, White says. But Autodesk has made one acquisition in this area already: Magestic Systems, a specialist in software for flat and composite manufacturing systems. Magestic's line includes a product that runs inside Dassault Systèmes Catia, which Autodesk is continuing to support.
What do we think?
CAM has been a fragmented industry, with almost as many software companies as there are hardware vendors of milling machines, cutters, and other fabrication automation. For a generation Autodesk has been about the drawing or the model as the end result, but now sees the challenge and opportunity in taking responsibility for producing the final physical product.