$799 gets you DWG-compatible CAD for Windows, Mac, or Linux; the late beta version of Ares Commander Touch; and a $399 Amazon gift card.
To promote its new Android CAD program—an industry first—Graebert is selling a special holiday bundle that includes a desktop copy of Graebert Ares Commander 2015, the late beta of Ares Touch 2015 for Android, and a  €/$399 Amazon gift card. The price of a perpetual license is $795.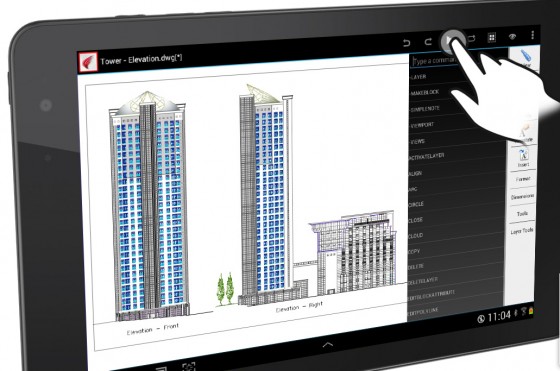 Graebert has become the second largest vendor of DWG-compatible CAD in recent years, and now counts more than 7 million active users of its software. Most copies are distributed as Dassault Systèmes DraftSight; the rest sold as CorelCAD or Ares Commander.
The Android version was first introduced at a developer event in Berlin in October. At the time, Graebert was making final tweaks on the user interface—which is said was the hardest part of developing the new program. The beta is now available and will be made available to buyers of the holiday bundle as well as others already testing the software. The special offer ends December 23, 2014.
What do we think?
The Open Design Alliance settled the issues regarding full DWG compatibility years ago. Products like Ares based on the ODA code are in daily use by millions around the globe. There is no question Ares is a capable and fully DWG compatible CAD product—and it costs hundreds less than AutoCAD LT. Throwing in a premium Android tablet like the Samsung  Galaxy S Tab 8.4 and a chance to run real CAD on it seems like quite the deal.