The marriage of Alibre and 3D Systems gives the hardware manufacturer direct access to CAD users and leverages the work Alibre has done among the maker class.
The 3D printing business is taking off as printers come down to more reasonable prices and the processes become more practical. One of the effects of this nascent boom is that 3D CAD products are being marketed as front end tools for 3D printing. Alibre was early into this opportunity and the company was a regular at Maker events around the world and this week 3D Systems announced the acquisition of Alibre.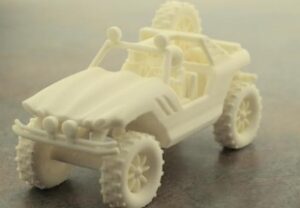 Alibre's CEO Paul Grayson says that 3D Systems and Alibre share a common vision. He says, "the power of 3D Systems technology, resources, and global reach combined with our sustainable, and scalable business model and affordable design productivity solutions is certain to make better design happen."
Yes, that is quite a bit to jam into an innocent little PR statement. Abe Reichental President and CEO of 3D Systems also mentions affordability and adds user friendliness to the mix.
In an earlier acquisition 3D System bought Sycode, a utility company that builds utilities for CAD, data exchange, CAM, 3D printing, and reverse engineering tasks. With the acquisition, 3D Systems acquired Sycode president, blogger Deelip Menezes. In his blog, Menezes shoulders some of the PR heavy lifting for 3D Systems with an interview with Abe Reichental. Reichental says the acquisition will help 3D Systems democratize model creation and 3D printing. The company says the deal will be immediately accretive to its net income.
Alibre has experimented with its packaging and pricing. At one point it was giving the base product away for free and selling upgrades to add functionality. Most recently, the company has been offering a base product, Alibre Design Personal Edition for $199 but it also offers professional tools in "Pro" and "Expert" packages, which include advanced tools such as sheet metal design, parts libraries, rendering in the Pro package and direct editing, surfacing, CAM, motion, in the Expert package. Paul Grayson has told us that with the reduction of price spurred interest in its CAD tools and he claims, they made up in sales what they lost in price.
And of course, they're still selling their profesisonal products as well. Alibre Design Professional is $999, Design Expert is $1,999. The company also sells CAM tools, training, and has specific add-ons. The two companies have been sidling up to each other. They went to this year's Maker Faire together. Alibre was selling 3D Systems printers including the toy-like RapMan, the table-top BFB 3000, and high end (and more complex) V-Flash models which include part washer and curing unit. Alibre was including its software with the sales of 3D printers. That should give you an idea of how this deal will look going forward.
3D Systems has been careful to position Alibre as just one option for customers who might want a 3D modeling tool to use with their machines and in the information accompanying the sale, 3D Systems talks about optimizing Alibre to work with its machines.  Naturally the company's machines work with any CAD tool that can produce STL files or other supported formats.
So what's this all about?
Obviously, 3D Systems doesn't need a CAD program. However, Alibre has been opening up new channels with its 3D printers and its CAD tools and 3D Systems. 3D Systems says it plays to build an arsenal of software under the Alibre brand.
The interest in 3D printing has spurred interest in easy to use CAD tools a la SketchUp. Among them are TinkerCAD and Autodesk's 123D, and no doubt there are more to come. Assuming 3D Systems is more interested in selling machines than CAD software, it's likely the acquisition will be more useful in teaching 3D Systems how to optimize their systems for CAD programs. The deal probably comes at a good time for Alibre which seems primarily to just hold its own in the market.  Grayson has shown himself to be a hands-on CEO willing to go straight to users at roadshows and fairs. It's admirable, but not very scalable. – K.M.