TechSoft 3D offers HOOPS as complementary Cloud and Desktop development kits.
Tech Soft 3D, a leading developer of 3D software development toolkits, has streamlined its HOOPS platform into two complementary platforms. Today the company releases HOOPS Cloud Platform and HOOPS Desktop Platform, which software developers can use to provide 3D CAD data exchange, visualization, and 3D PDF creation in their products. The two platforms are available under a single licensing scheme, making it easier for developers to provide products for the new spectrum of desktop to cloud to mobile applications.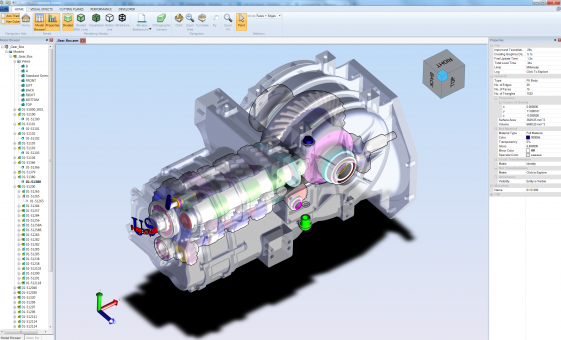 HOOPS Cloud Platform is for creating applications that run on any and all devices, whether in a browser, hosted on a server, on a mobile device or via thick client. Development teams gain access to web and mobile functionality designed for developing a new generation of cloud-enabled products.  HOOPS Desktop Platform continues providing access to the market-leading HOOPS technologies that power advanced 3D on millions of desktops every day.
PLM vendor Aras switched to HOOPS technology in 2011: "We use HOOPS technology because it simply works well together and elevates the overall performance of our Visual Collaboration capabilities," says Peter Schroer, Aras president. "Through our partnership with Tech Soft 3D, we're able to take advantage of a breadth of features and functionality that will keep our product compelling and our development on track for years to come."
TechSoft 3D technology includes the original research that led to the 3D format now part of the 3D PDF standard. The company's toolkits now are inside more than 500 unique applications.
What do we think?
Writing graphics software for the cloud and mobile requires different tools and a different approach to data management than when the software is just for the desktop. It also takes a higher appreciation of the interrelationships between all the various phases and uses for 3D data. As Tech Soft 3D VP Gavin Bridgeman says, "An advanced 3D PDF is only useful if the source 3D data it displays has been translated accurately; fast translation times are useless if the model cannot then be displayed quickly in the graphics system." By providing both of its new development platforms on one licensing scheme, TechSoft 3D makes it easier for vendors to develop for all sides of the brave new world beyond the desktop.