All divisions and regions reported growth despite continued currency fluctuations.
Despite continuing fluctuations in currency values across the globe, Dassault Systèmes (Euronext Paris: DSY.PA) reported a solid second quarter. Measured in constant currencies, total revenue for the quarter ending June 30, 2015 was €715.7 million, up 16% from the second quarter one year ago. Software revenue was €627.8 million, up 14%, and service revenue was €87.9 million, up 30% from 2Q14.
Net profit in the quarter was €100.3 million, up 50% from 2Q14.
Second-quarter revenue by regions (all percentages in constant currencies unless noted):
Americas: €230 million, up 15%
Europe: €305.3 million, up 13%
Asia: €190.4 million, up 22%.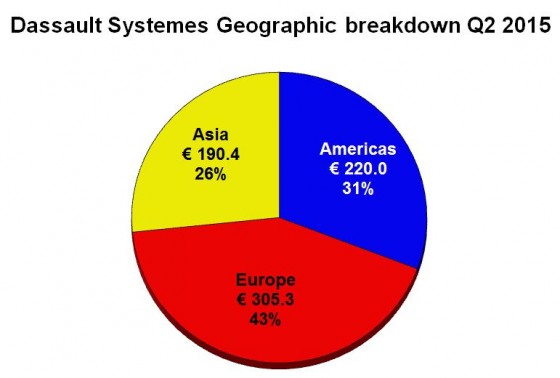 Company CEO Bernard Charles says revenue growth in Europe was led by stronger than usual results in France and Southern Europe. Revenue growth in Asia was spread across all major markets, including India which Charles says has seen strong growth the last two quarters.
SolidWorks revenue was up 11% from a year ago; the company said much of the growth came from recurring revenue (existing customers). Dassault's category of "Other Software" (for new products and smaller brand units) increased 35% year-over-year, with the inclusion of Quintiq acquired in September 2014 and Accelrys in April 2014, along with improvement from the Delmia, Geovia, and Exalead brand units.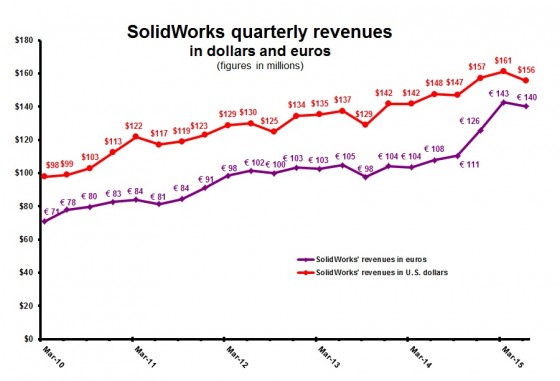 Catia revenue grew 4% year-over-year, while the Enovia division (PLM) was up 1%.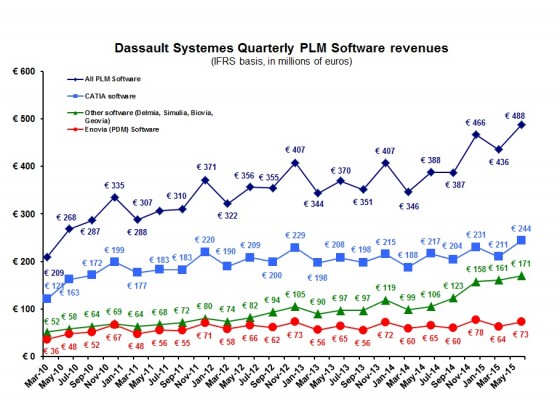 During the conference call with market analysts to discuss the results, the company noted that 15% of total revenue in the quarter came from the V6 edition of Catia, Simulia, Enovia, and related products. Dassault customers are among the largest manufacturing firms in the world, and they update their software when it suits them, not when a new version is released. To put that in perspective, V3 was introduced in 1984, V4 in 1993, V5 in 1998, and V6 in 2008. Dassault continues to support older versions for customers who continue to pay maintenance subscriptions, but the percentage on the current platform remains a minority. During the quarter Dassault introduced changes to the V6 platform that make it easier for customers still on V6 to start to upgrade piecemeal as opposed to switching all at once.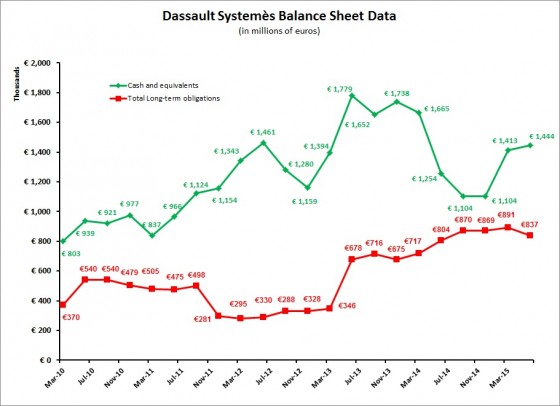 L. Stephen Wolfe, P.E., a contributing analyst for Jon Peddie Research, provided research and his usual legendary insights for this article.