Design for Fabrication is yet another attempt by the maker of Catia and SolidWorks to crack the risk-averse, penny-pinching construction software market.
Dassault Systemès recently announced "Design for Fabrication," for the architecture, engineering, and construction (AEC) industry. It is the latest in its series of "3DEXPERIENCE" software suites aimed as providing a custom experience for a specific industry segment based on its Catia V6 technology and related 3D visualization and data management software tools.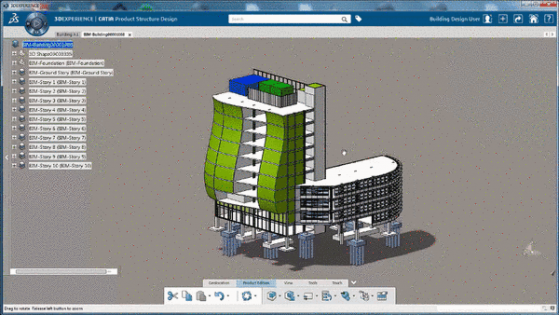 Dassault says Design for Fabrication offers "access to a digital, collaborative environment on the cloud for civil and building projects, from concept through fabrication detail with shop floors that reduce waste and rework." The target market is not such much architectural design as it is design and manufacturing of building systems and parts.
Design for Fabrication is one of several "Industry Solution" software offerings Dassault Systemès has added to its portfolio recently; others include "Lean Construction" and "Facade Design for Fabrication."
What do we think?
Dassault Systemès has tried for years to translate its leadership in product design and manufacturing into the AEC market, with little success. Its best known attempt was a partnership with Gehry Technologies to create the Catia V5-based Digital Project. That ended with GT being bought by Trimble.
The press release announcing Design for Fabrication quotes one user with hands-on experience prior to market release, a DS reseller who also does construction industry consulting in Canada. This is typical of DS products in AEC, where consultants use the software for solving specific problems while the milieu of contractors, subcontractors, and A/E firms stick with existing solutions.
The issues that prevent DS from breaking into the AEC market are complex. No one disputes the quality of the products being offered. The fragmented nature of construction process makes it hard to standardize on one solution with a technology more current than AutoCAD. BIM (building information modeling) standardization is still in its early stages. The cost of Dassault software is also an issue; the 3DEXPERIENCE portfolio solution will always be the most expensive option on the table.
If Dassault Systemès really wants to be a major player in AEC, they will have to buy their way in. The only two companies that make sense from both the market size and technology perspectives are Nemetschek and Bentley Systems. Nemetschek is on a roll right now, with 33% growth in 2015. Bentley has a customer base that matches Dassault's expectations (the very largest companies). But neither is a likely purchase. Outside Northern Europe Nemetschek products are mostly sold to smaller firms. Bentley has proven in recent years that any change in ownership is extremely unlikely until there are changes in senior management.