The California software company behind FlexNet gains a much larger sales force; Dassault gains new tools for Delmia and new customers.
Dassault Systèmes today announced the acquisition of Apriso, a provider of manufacturing software sold under the name FlexNet, for $205 million. Dassault will use the acquisition to strengthen its existing Delmia portfolio of software for factory planning and operations.

Apriso's solutions synchronize global manufacturing networks, offering real-time visibility and control over the business processes performed by plants and suppliers.  These solutions establish a common set of operational standards that can be managed holistically, on a global basis, while continuously improving and meeting local market and customer needs.
The primary Apriso product line is called FlexNet and sold as a business process management platform for manufacturing. It includes applications that run above the plant operational level to enable customers to synchronize and coordinate their manufacturing network.
In a conference calls with analysts, Dassault Systèmes CEO Bernard Charles said the addition of Apriso will provide its customers with new ways to drive best-in-class manufacturing process intelligence and process standardization across multiple factories by providing real-time operations monitoring. "The question isn't simply, 'what is the next innovative idea?' but rather 'Can you produce your idea quickly, efficiently, and cost-effectively? Can you excel in global business responsiveness and local production agility?'"
Apriso, based in Long Beach, California, has existing customers in multiple industries, including consumer packaged goods, high tech, life sciences, transportation, aerospace and defense, and industrial equipment—all target markets in Dassault's new 3D Experience strategy for 12 targeted industries.  Key Apriso customers include Alstrom, Bombardier, Cummins, GM, Hitachi, L'Occitane, Lockheed Martin, L'Oreal, Philip Morris International, Textron Systems, and Volvo CE.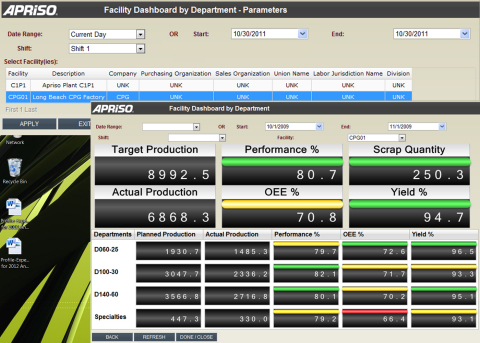 Dassault Systèmes and Apriso have entered into a definitive acquisition agreement whereby Dassault Systèmes will acquire Apriso in a cash transaction. The completion of the acquisition is subject to normal closing conditions, including regulatory approvals. The transaction is expected to be completed in July 2013.
Our take
Apriso's existing customers use their software to manage the distribution and execution of quality, logistics, and various manufacturing and compliance processes across multiple sites. These are companies that see beyond the ERP-based approach to manufacturing management—exactly the kind of new customers Dassault wants to court. Apriso uses a direct sales model; joining Dassault gives the software a much broader reach.