CineSync 4.0 introduces additional security features and an iOS app.
Video technology specialist Cospective has introduced a major update to CineSync, its Academy Award-winning cloud-based remote review and approval solution. The update includes a high-end version of the software with additional security features.
CineSync has been integrated into the workflow of several recent feature films and TV shows, including Doctor Strange, Fantastic Beasts, and Game of Thrones. Named customers include ILM and Sony Pictures Imageworks.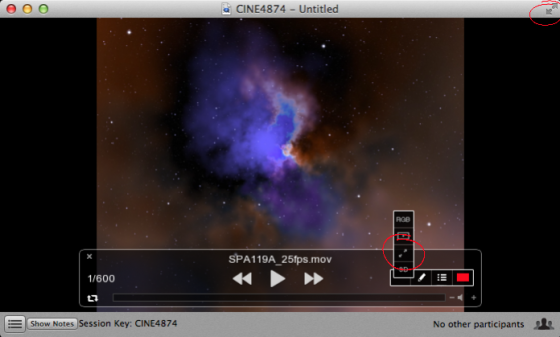 The cloud-based and web-accessed CineSync allows coordinated use by team members scattered across the globe. It is most commonly used to review work-in-progress shots and to synchronize comments. CineSync supports all major desktop operating systems, high-definition and high frame rate video, and includes a set of drawing tools for direct annotation onto images in a video. Notes created during review sessions can be exported to PDF format to circulate to team members.  
CineSync 4.0 introduces a new iOS app; an overhauled video playback system; deeper production tracking integrations with ftrack and Autodesk Shotgun; and a CineSync Pro Studio – an extended version of CineSync which includes on-demand watermarking via a new integration with MediaSilo Safestream.
The new integration with SafeStream allows for automated, on-demand, individual watermarking of all review files. All guests in the review will receive customisable files watermarked with their name, cineSync session key, IP address and the review time/date. Cospective says the process is "fast and efficient, due to Safestream's scalable architecture."
Guest authentication is also part of the high-end version. Guests are authenticated in advance; only guests who have been approved will have review access. Cospective says the system has been designed in conjunction with Hollywood studios to allow the maximum control over who has access to review material, while imposing as few technical hurdles as possible. All reviews are also tracked in the management portal, allowing admins to see when reviews occurred and who was involved.
Other new CineSync 4.0 features:
iOS app —  A new CineSync app for iOS enable guest viewers to join CineSync reviews from Apple iPhones and iPads. The app extends the existing integration with Shotgun and ftrack, meaning review information and media can be pushed securely to mobile devices. Files are automatically deleted at the end of the review, but all drawings and saved frames can be saved back to Shotgun or ftrack by the session host.
Revamped video playback — QuickTime has been retired and replaced by a new, adaptable custom video architecture. Cospective says the change allows CineSync 4.0 can support a wide array of video formats, resolutions, and frame-rates across all platforms.
Production tracking integration — CineSync 4.0 features a deeper integration with production tracking tools Shotgun, ftrack, and NIM. Users can browse and load media playlists directly from these applications, and access seamless transfer and recording of review information, saved frames and other feedback.
What do we think?
Studios are paranoid about security and secrecy. Rightly so; piracy of pre-release video is rampant. CineSync offers studios the global connectivity studios need, and the security they demand.
It won't be a surprise if one of the larger video pipeline vendors snatches up the Australian-based Cospective in an attempt to create an end-to-end cloud-based review solution.