Both Mac and Windows version have been updated.  The Mac version is now fully Lion-compatible.
Corel has released its first update to CorelCAD, the Ares-powered 2D/3D CAD program first introduced in 2011.
Available as a free download for current CorelCAD customers, the update adds a variety of new features including the introduction of new 3D editing tools, 3D input device support and 3D display improvements. New 2D drafting tools allow for greater control for creating precise CAD drawings and modifying objects on screen. There are also overall performance improvements and new full support for Mac OS X Lion.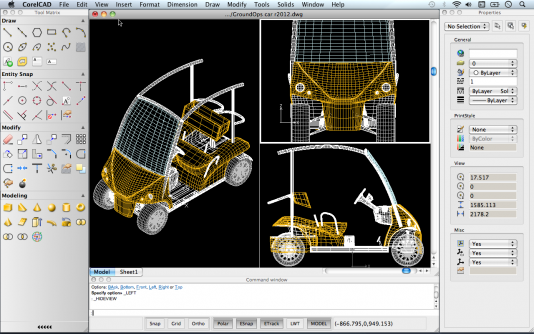 Key new features include:
New 3D editing tools and enhanced 3D modeling capabilities that includes the fillet tools for 3D edges and advanced editing of 3D surfaces
A Smart Dimension tool that automatically detects and suggests best matching dimension tools including Lines, Poly Line segments, Arcs, Circles, and Rings
Print configurations that can store advanced print settings for different layouts and set configurations as presets across multiple projects
Support for 3D Connexion input devices for Windows
VoiceNotes and Spellchecker for the Mac, for annotation
Support for additional languages: Polish, Czech, Russian, Turkish, Simplified and Traditional Chinese, Korean and Japanese.
Mac-specific new features include:
Full Mac OS X Lion support
Improved memory and performance for 3D display with increased rendering speed
Improved performance to start up time on Mac OS X
For a complete and detailed list of enhancements, visit the Corel CAD update website.