This liquid-cooled behemoth can handle five dual-width GPUs.
Boxx Technologies is now shipping a redesigned Apexx 5, a max'd out workstation designed for graphics professionals in architecture, engineering, VFX, and animation. The highly configurable redesign can handle up to 5 dual-width GPUs with a sync card, a single-width GPU, or any combination of seven, full-length expansion cards.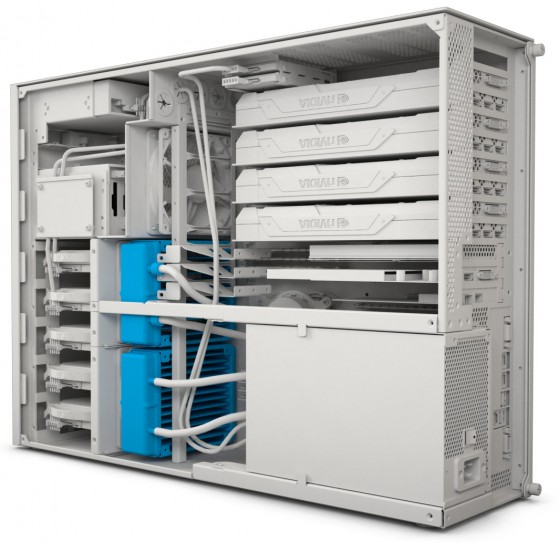 Boxx claims the Apexx 5 is the most advanced x86 workstation on the market. It can be custom-configured with a multitude of expansion cards, hard drives, memory, and CPU cores. It comes with dual Intel Xeon 2600v3 processors for up to 36 cores (72 threads).
The previous Apexx 5 model featured simultaneous utilizations of four full x16 PCI-E 3.0 expansion slots, one PCI-E 2.0 x8 (x4 electrical), one PCI-E 3.0 x16 (x8 electrical), one PCI-E x8 (x8 electrical), along with eight full-size hard drives. The new 2016 model goes a step further by elevating three expansion slots and adding risers so Apexx 5 now accommodates a fifth full-length, dual-width GPU, and a sixth, single-slot, full-length GPU, or any other full-length single-width PCI express expansion card.
Another addition to the 2016 Apexx 5 is a hot swap drive cage which accommodates up to eight 2.5 inch drives. Internally, the system houses up to five 3.5 inch drives or twelve 2.5 inch drives.
What do we think?
The Apexx 5 addresses a specific market, the power users among technical professionals. Not every CAD user or every animator needs this level of ultimate horsepower. But when they do, price is usually not an object.