BricsCAD is DWG compatible without being an AutoCAD clone. Linux availability extends its reach in many emerging markets.
Bricsys has released a Linux version of its 2D/3D drafting program BricsCAD V14, with many features not available on other Linux 2D CAD products. Having a full-featured Linux version of its flagship is important for Bricsys, which makes most of its income via a network of third-party developers.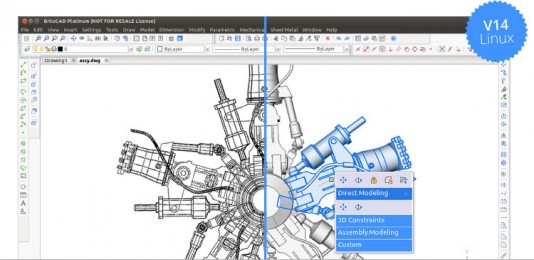 This new release brings an updated user interface to the Linux version, matching the overhaul given the Windows version with the release of V14 in late 2013. New UI commands include AddSelected and SelectSimilar. V14 for Linux also gains the BricsCAD context-sensitive Quad cursor, which Briscsys says can "provide users double-digit productivity improvements."
Other updates:
Generate associative 2D and 3D views and sections: Automatically generate orthographic, isometric, and section views. The views are updated automatically when the 3D model changes.
Sheet metal design: Create sheet metal parts by extruding 2D profiles and then adding new flanges through pulled edges. Bends, junctions and reliefs are added automatically. To output designs to computer-aided manufacturing (CAM) systems, sheet metal parts can be unfolded automatically and then exported as 2D .dwg or 2D .dxf files.
Productivity improvements: Annotative styles and entities; 30,000 3D Standard Parts library; Helix and Sweep commands for 3D modeling;  QDim, MLeader, ConvertPoly, and HatchEdit commands for 2D drafting.
The English language versions of BricsCAD V14 (Classic, Pro, Platinum) are available now; translated versions will be made available in the next few months.
Why Linux?
Computer users in the US and Western Europe generally go with commercial operating systems, but in Eastern Europe and other regions with emerging economies, open source Linux has become a popular alternative. Having the option to invest in CAD on Linux may be the difference between buying CAD software and copying it for many potential users. The price of AutoCAD—even when adjusted to local market realities—is seen as a tremendous obstacle to adoption by many professional in places like Turkey, Poland, or Turkmenistan.