The 3DBOXX 8950 can hold four dual-size GPUs and still leave room for other add-ins. Boxx is aiming at high-end visualization and simulation.
Boxx Technologies has introduced what it says is the only workstation on the market that can hold four dual-size GPUs and still host additional add-in boards for other functions.  The 3DBOXX 8950 is designed for high-end applications in visualization, simulation, GPU-compute, and other applications that make extreme demands on graphics processing or GPU-based parallel computing.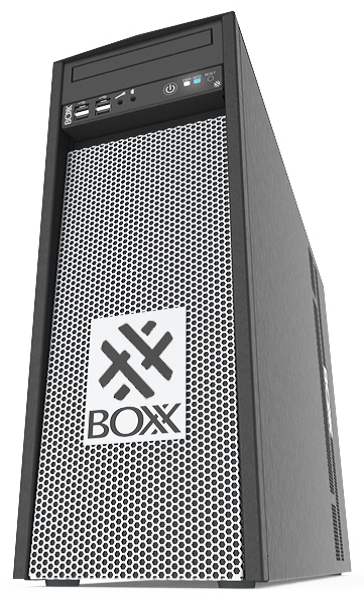 The liquid-cooled 8950 uses the Intel Xeon E5-2600 series CPUs, which can be installed as dual CPUs for up to 16 cores (32 threads). System memory can be as high 12 512 GB.
"We built the 8950 specifically to house a lot of GPUs" says Tim Lawrence, VP of Engineering at Boxx, based in Austin, Texas. "We see it as a really great platform for GPU-centric applications."  The workstation and hold four Tesla-class Nvidia workstations, or be equipped to run Nvidia Maximus by installing up to four Tesla boards and a qualified Quadro board. After the GPUs are installed there are still 3 PCI-E slots available from an original total of 12.
The 8950 is currently certified on Autodesk 3ds Max, Maya, Revit, Inventor, and AutoCAD; Chaos Group's V-Ray; Dassault Systemes SolidWorks; Adobe Creative Suite 6; Luxology Modo; and Maxon Cinema 4D.
Other specifications or options:
Processors:  Dual Intel Xeon E5-2600 Series Six- or Eight- Core Processors
Intel C602 Chipset
Memory: Sixteen 240-pin (DIMM) sockets; support for DDR3 1600 MHz Registered ECC Memory Expandable up to 512 GB
Hard Drives:
SATA 3.5 7200 RPM 250GB to 2TB, SATA 3.5 10000 RPM 250GB to 1TB
SATA 2.5 SSD 120GB to 480GB
SAS 3.5 15000 RPM 300GB to 600GB (Optional SAS Controller)
Ports and slots:
Front: Four USB 2.0, one Headphone and one Microphone
Rear: One Line In, one Speaker, Three Surround Channel, Optical in/out,
Four USB 2.0, one 9-pin Serial Port, and two RJ-45 Integrated Intel Gigabit
LANport
Four PCI-E x16, one PCI-E x16(x8), one PCIE-E X8 and one PCI-E x8(x4)
Power Supply: 1250 Watt 80 Plus Gold Power Supply
Removable Storage Options: USB Floppy Drive, DVD +/- R/W DL Writer or Blu-ray RW Drive
Graphics: Up to four Nvidia Quadro, GeForce, or Tesla, or ATI FirePro graphics cards
Chassis: 6.825" W x 17.815" H x 24.650" D (17.34 cm x 45.25 cm x 62.61 cm)
Operating Systems: Microsoft Windows 32-bit or 64-bit; Linux Operating System option available
Configurable up to 4 Monitors
USB Mouse and Keyboard
3-Year standard warranty