BIMobject VR and BIMobject AR will help users visualize their construction projects using information from BIMobject Cloud.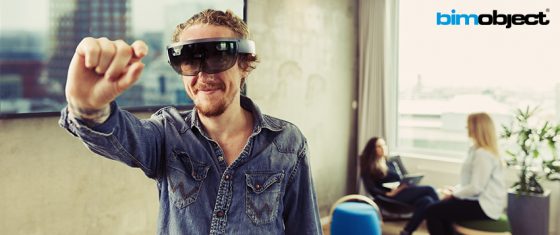 At the AIA Conference 2017 in Orlando, Florida, BIMobject revealed two virtual reality solutions for manufacturers of construction products and BIM projects: BIMobject VR and BIMobject AR. Both solutions utilize digital versions of real products created by manufacturers and used by architects, engineers or builders.
BIMobject VR
BIMobject VR is based on HTC Vive gaming hardware and provides a fully immersive version of a building project. It needs high computer performance in order to provide a smooth VR experience, which JPR defines as a minimum graphics processing using AMD Radeon 580 or Nvidia GTX 1070, and a minimum CPU of an AMD Ryzen 7 1800X or Intel Core i7 6700K and at least 256 GB SSD and 16 GB DDR4 memory. (Lesser machines may work, but performance may be limited. Also see the Steam Performance test, for an indication of a system's VR worthiness.)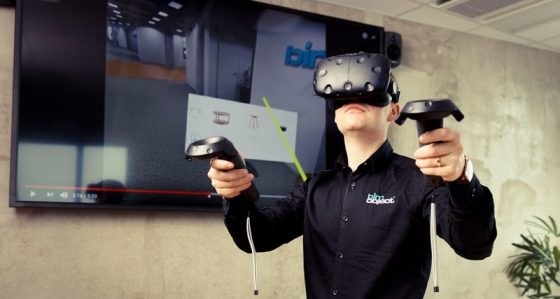 BIM objects from manufacturers are reused for the process of creating the final VR-solution, which ensures correct and current information. It then uses a game engine for further refinement. Once immersed, users can interact with the digital building products in real-time, modifying, adding and rearranging objects or changing surface materials.
BIMobject AR
BIMobject AR is based on the Microsoft Hololens, a holographic computer and head-mounted display, considered to be the best mixed reality solution on the market.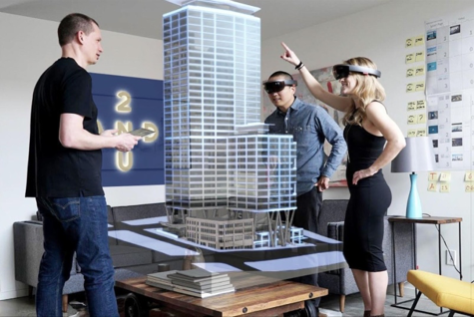 BIMobject AR helps users integrate the digital products in an actual, real-life environment through Microsoft Hololens glasses. Therefore, setting up an empty space with digital products from the BIMobject Cloud. One feature in BIMobject 3D-scans space and interprets the resulting 3D mesh. Digital objects like kitchen interiors, furniture or HVAC-equipment can be placed virtually in the actual space. Built-in logic is used to determine whether a specific BIM object is to be placed on the floor or mounted on a wall. Users can select and configure products in 1:1 scale using voice commands and hand gestures. Many people can view the same configuration simultaneously and freely walk around to look at the proposed digital result.
What do we think?
Availability of VR headgears, VR-ready GPUs, and VR solutions is encouraging AEC firms of all sizes to use the technology as a tool for collaboration and remote training.
To further penetrate into AEC industry and become integrated tool for design, VR technology needs to provide more control to architects and engineers. In the absence of VR-specific modeling or drafting tools, VR could be a passive viewing platform where user can't interact and change the environment.