The Swedish start-up is linking builders to the makers of furniture, fixtures, and building systems. Hexagon buys in.
It might have happened off your radar, but at the end of December, BIMobject, a startup in Sweden, went public with a successful IPO that made around $7 million on the first day. Not huge by Wall Street IPO standards, but a good send-off into independent business.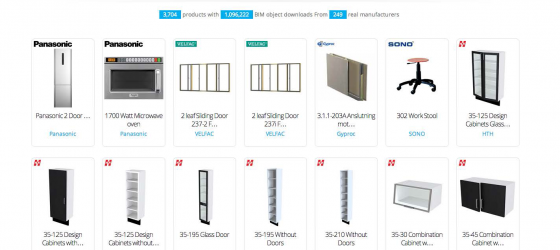 Founded in 2011 in Malmo, Sweden, BIMobject is building online catalogs for companies selling products to customers in the AEC industry. Its range is primarily European, and the product files available are primarily European.
The models are free for people who sign up as BIMobject subscribers. The companies that are offering furniture, fixtures, building supplies, plumbing, etc., are the ones who are paying for BIMobject's services, because the company is linking them with potential customers.
The company also offers their customers custom online stores and analysis tools because they can track what people looking for parts browse and what their criteria are for making choices.
BIMobject can already deliver a substantial base. In September, the company announced that they have over 1 million downloads of 3D models from their site. In August the company reached 50,000 subscribers, and after the company's half-year report in which they reported about $575,000 (US) revenue, the company is on track to break a million U.S. in revenue for its first year as a public company. The company says their goal is to become the market leader and dominant force in Europe for hosting, publishing, and maintaining digital products in the AEC segment.
The company has been signing on many suppliers including the U.S.-based Global Product Data, which publishes the Source catalog, and they're signing up a wide range of worldwide suppliers. The company's cloud-based portal has a big stock of models. The company first started building 3D models Revit and ArchiCAD formats, but they're adding on a wider range and their site lists formats for 3ds Max, Allplan, ArchiCAD, AutoCAD, and SketchUp as well as the neutral IFC format.
The company says they define a BIM object as an information container that holds all the critical information about a product. So, those components add to the value of the BIM 3D model with information that can help designers understand the building's qualities such as heating and cooling efficiency, acoustics, lighting, and cost of components.
Before its IPO, BIMobject was identified as an up-and-coming company by Red Herring, which included the company in its Red Herring 100. It has also attracted the attention of countrymen Hexagon AB, which has taken a position in BIMobject. The company has agreed to make a direct share issue of 31.4 million SEK "without preferential rights of shareholders—with the purpose of adding a strategic and strong new shareholder." BIMobject says the private placement will dilute about 13% of the existing share holders.
BIMobject describes Hexagon as a perfect strategic and long-term industry partner, but there is some irony here … there always is, isn't there? BIMobject told Red Herring that an IPO made sense for the company to raise money because there is not the same kind of VC community in Sweden as exists in the U.S. and strategic relationships can be complicated.
CEO Stephan Larsson told Red Herring, "Industrial companies have also tried to partner with us but it's dangerous for us since we are building a neutral platform and everyone is welcome."
So, Hexagon? Hexagon is sideways to BIMobject's core market. BIMobject says the Hexagon investment will enable the company to broaden the BIMobject cloud technology to new industries including process, power, and marine sectors. And, maybe, we are thinking there might be some interesting opportunities with Hexagon's 3D scanning tools.
What do we think?
BIMobject is an interesting company with an attractive portal, but it's not exactly breaking barriers and a similar company would not dare to go public in the US—there just isn't enough money in it, nor is what it's doing that unique.
There are two reasons this story is interesting. One, it is yet another example of the cloud marketplace taking shape and taking advantage of direct access to customers. As has been evident since the arrival of WebGL, the opportunity for 3D on the web is in becoming a platform where customers can access products and information. Other companies working on this include Augment, which offers its models for use in Augmented Reality applications, Shapeways for 3D printing or SketchFab for anything else. In fact, Making Society has a long list of companies offering 3D models.
Also, it's interesting to see the moves Hexagon is making as it finds new markets for its metrology capabilities.
Similar businesses that have been around for quite a while include the Sketchup 3D Warehouse, a Trimble company. Trimble too has a big business in metrology tools and it is going head to head with Hexagon.
What we seeing on this front is that there are a lot different ways to go at the design and build business beyond traditional avenues.